Subjective:
Developer Bird Bath Games and publisher Raw Fury present Atomicrops, the post-apocalyptic shoot-em-up farming simulator. Atomicrops hopes to shape a new dimension of roguelike shooters in the vein of The Binding of Isaac or Enter the Gungeon. Atomicrops enters with its own brand of base-building in the form of jaunty grotesque crops, protections that can fight back against waves of mutants, and irradiated enemies growing more unnatural by the level.
Objective:
The simple goal of Atomicrops is to survive five rounds of escalating twin-stick shooting. Each round has three parts of a day-to-night cycle that comprises each season. Daytime scavenging may lead to items which help protect the farm from nighttime attacks. Neither is forced and if the player is crafty enough they may be able to simply dodge and survive long enough to make it to the final round.
But if the player decides to grow crops, they will contribute to a seasonal goal and earn survival upgrades. Honing crop growing techniques is important for the final round, as the big bad of the nuclear wasteland can best be defeated with the crops the player grows. Additional unlocks, such as permanent upgrades and additional characters, unlock as the player becomes more successful with each attempt.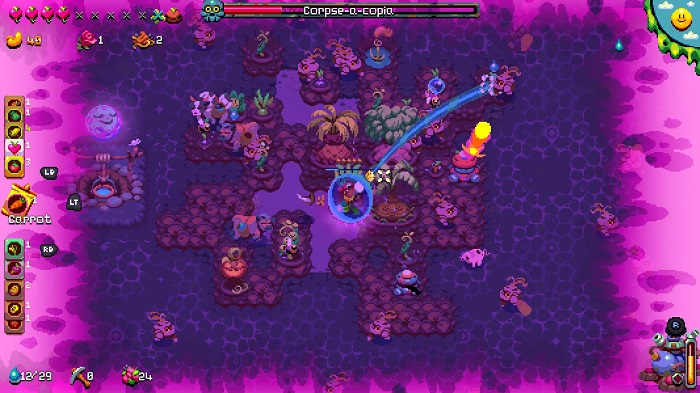 Assessment:
Folks – Atomicrops is a lot. I felt overwhelmed my first handful of attempts as movement is perpetually necessary and every step forward added more distractions.
Bullets. Enemies. Flashing. Partners. Crops. Blasting, blasting, blasting.
If I stopped I'd be quickly shot. If I kept moving I might forget to tend to my crops. Or I'd find myself running into bullets that I'd easily avoid if I stopped moving. But if I stopped moving…well. See the beginning.
It's to Atomicrops' enormous benefit that each failure taught me a little something about how to play. Bullet patterns from different enemies created patterns that started to make more sense. Little tricks of harvesting allowed for greater collection of crops to make myself more powerful for earlier excursions into rougher territories. Even the character unlocks focus on a different aspect of the game as a sort of enhanced tutorial. One character grows crops faster, the other is better at fighting, and on and on until I'm playing characters that can go into the roughest locations right away or loses time if they get hit at all.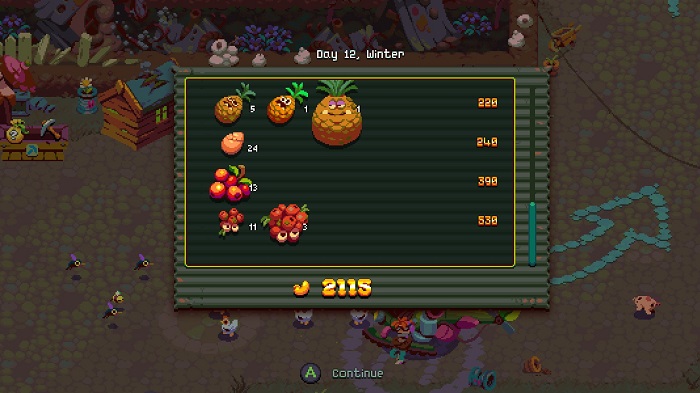 This escalation, both of powers and difficulties, is what Atomicrops excels at. But the escalation doesn't occur unless I push it to happen, and this realization is the most important thing to grasp about Atomicrops. All the flashing, the bullets, the difficulty, and how overwhelmed I felt were a direct result of me trying to take on more than I was capable of doing. If I slowed down and took in each of Atomicrops' systems as they were presented then I would have been able to ease in much sooner than I did. At the same time, I don't think that I would have felt as exhilarated at the depths my inexperience initially kept me from seeing.
By the time I was prepping for this review I would go back to Atomicrops and test something for further thoughts. Then I'd play a whole other round. If I wasn't successful, I'd play again. The feeling eventually faded, but not before I got to the 7th of 10 possible years of difficulty and made a lot of progress in upgrades, aesthetic or permanent. That jolt of exhilaration eventually faded because, once I got used to the rhythm of Atomicrops, the similarity between the environmental biomes and repetition of the fights started to wear me down. The core of Atomicrops is phenomenal, but its longevity dissipates quickly once familiarity sets in and the boxy levels reveal little else in secrets or new challenges. Getting to that point though? An absolute blast.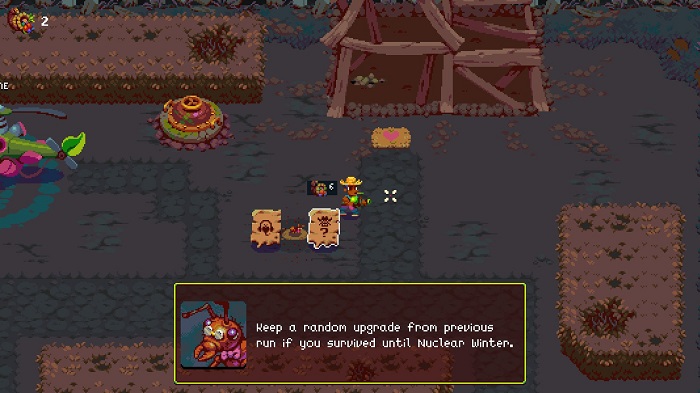 Atomicrops was reviewed using a reviewer-purchased copy of the code on PC through the Steam platform.
The Review
Atomicrops
The moments Atomicrops enthralled me are a rarity in so many one-and-done roguelikes littering the market. It's all flash but that's satisfying substance as I found ways to make sense of the systems as I fully embraced each step in understanding. I hope that Atomicrops is successful enough to elaborate on the maps and systems that are present. If you opt to take the plunge into irradiated veggies right now, you'll still have an excellent time surviving through the inevitable nuclear winter.
PROS
Plays like a vibrant dessert - deeply satisfying and flashy in each step forward. Even if you feel overwhelmed, Bird Bath Games integrates different characters and modes of progression to make sense of the flash one step at a time.
CONS
Similarity of the environments and challenges breeds repetition in the long run.