Subjective:
Developer Dead Mage and publisher 11 bit studios present the action-RPG Children of Morta for review. Children of Morta aims to infuse the cycle of adventure, death, and subsequent attempts with vignette storytelling. Through the Bergson family, the player may fight through Children of Morta's dungeons with heavy slashes, twin-stick fire throwing, precise combos, and many more combat options. Failure might not mean loss of progress, but illuminating a side of the family that will help them grow in their quest to destroy the corruption in the land.
Objective:
Dead Mage rejects the idea of a "Game Over" state with Children of Morta. Even if you lose all your life playing through the dungeons, as I did, all it means is an opportunity to power up the Bergson family. Much more, and why Children of Morta is so potent, is how the family learns to rely more on each other in the vignette storytelling beats that occur after losing all your health. Growth isn't just in stats for killing, it's guiding the family to a place that makes them more comfortable with each other. All families have their secrets and the Bergson family won't reveal theirs without struggle.
The vignettes are the punctuation to fast combat, both guided by deeply expressive sprite work. Each member of the Bergson family is as distinct when resting at home as they are in combat. As such, you'll find someone that fits your play style, but don't expect to stay with them forever without drawback. Fall in love with the spell-slinging youngest daughter Lucy, kill a boss, and if you opt to play as her more you'll find she's been hampered with sickness from prolonged exposure to the corruption. This gets the player thinking outside of one contributor to the family, experimenting with the different play of others, and helping them grow together as strengthening one provides passive buffs to all.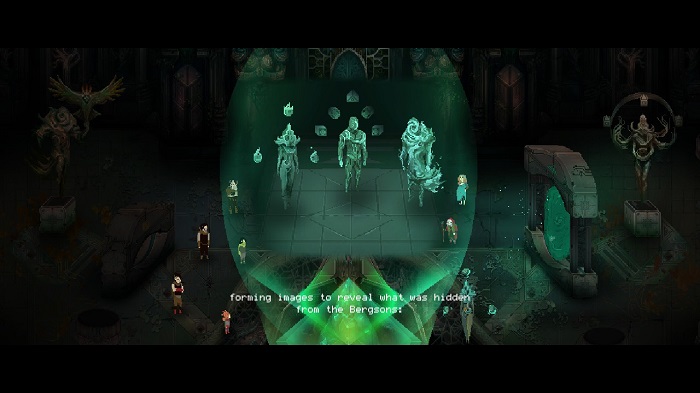 Assessment:
Family narratives in video games are often wracked with estrangement, despair, apocalypse, and death. Single fathers, mothers, orphaned children, death squads destroying home towns – just a small list of travails awaiting the digital family unit. Children of Morta doesn't lack in tragedy. In fact, there's a turn a bit less than halfway through that had me in rare tears over a game. What Children of Morta has is a family that's not going to let the troubles facing them define how they get to love one another. It may sharpen some of their words, leave them at a loss at what to do, but won't change the sworn stability of their household.
The story of the Bergson family is told through inter-action vignettes that owe more to Pac-Man than The Last of Us. They're a brief glimpse into what the Bergson's lives entail, how they keep their spirits up in the face of the growing corruption, and potential future failure. It's an opportunity to show how far both the Bergson family and player have come from the start. There's plenty of room for "YOU DIED" styles of failure in other games. In Children of Morta, they take a healthier approach of using failure to tell the story of the family that you might not get being a hardcore never-hit mega gamer.
Those gamers will still find plenty of challenge within Children of Morta starting with, once again, the family. They each control and fight so differently from one another that part of the challenge is finding just who is going to suit your style. I gravitated toward the martial artist Mark, whose attacks build up a shield that can also strengthen his blows, but also loved the fire blasts of spell prodigy Lucy. I love that the corruption gives characters a sickness if I relied too much on one, encouraging me to check out how everyone else played. Co-op wasn't an option for me, but from those who witnessed me play Children of Morta I would love to hear how families approach couch co-op. I'm sure friends would have a blast too, but given the excellent way Children of Morta tells the Bergson family story I want to know more about family journeys through the blighted land.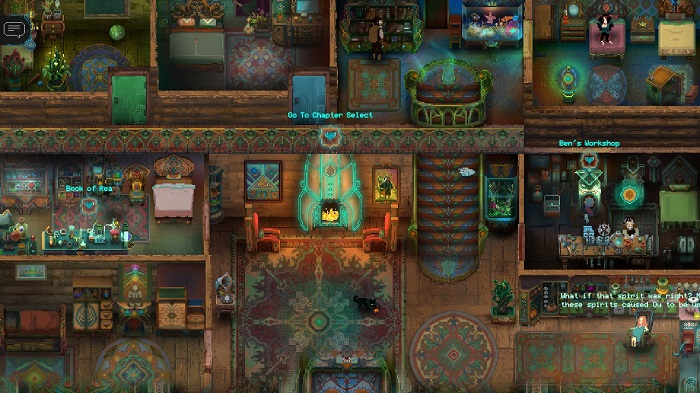 Children of Morta's family strength continues to shine in the sprite work. The Bergson house, where the family breaks in-between and the player can upgrade abilities, is a marvelous breathing space. In addition to housing the vignettes, the Bergson home is a perfect example of how families form strong personalities separately even if they grow together. The youngest of the Bergsons, Kevin, is always fascinating to watch. He's a bounding shadow of perpetual excitement, testing the limits of his room with acrobatic skill, and trying to win the approval of his parents by sharpening his skills in excitable exhibition.
Bonus points too for the Bergson cat, giving me a sort of "Where's Waldo?" mini-game to play trying to find what the kitty was up to. This is all bolstered by narration that conjures up the image of an old man recalling hard times and the love that got him through. These aesthetic choices keep Children of Morta hitting emotional beats I wasn't expecting at a much higher level than any other action RPG I've played.
The only negative aspect of Children of Morta I can even gesture at is how abruptly it ends. Even so, the way the ending unfolds and the steps I took to get there were completely in-line with the emotional beats that continued to ring into the end stretch. The cycle of game play, much like the cycle of violence that the Bergson's wish to break, must end and that means accepting when stories are over.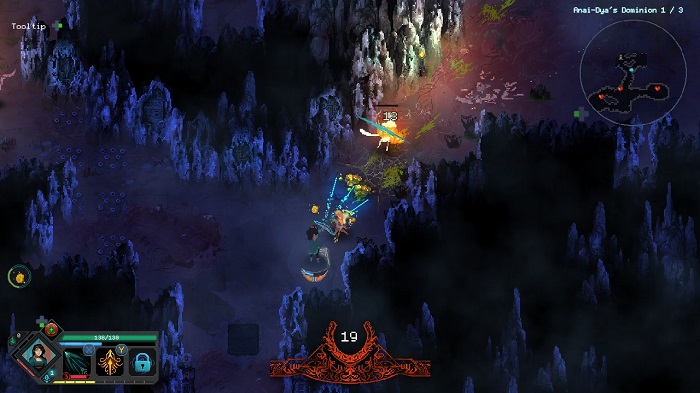 The Review
Children of Morta
Children of Morta enthralled me each of the twenty hours I spent combing through the dungeons and watching the Bergsons grow. It stands as a testament to the power of vignette storytelling as opposed to long cutscenes. Families grow as much in the times when a caress means the world as they do when a death rocks their foundation. Children of Morta is not at all what I expected, and it's in the details of the Bergson family legacy that I found love few games have touched.
PROS
Vignette storytelling rewards failure with glimpses of how the family grows, allowing a wealth of emotional beats.
Awesome sprite work that creates distinct personalities for all characters in and out of combat.
Family growth and corruption mechanics encourage trying out different characters while never sacrificing overall progress.