Platform: PC
Subjective:
Developer PICORINNE SOFT and publisher DANGEN Entertainment present Disc Creatures for review. Disc Creatures travels the path of collect-a-thon monster RPGs like Pokemon while trying to create its own identity. Through simple sprite illustrations, a chiptune soundtrack, and monster battles, Disc Creatures hopes to attract players looking for a collect-a-thon fix.
Objective:
As soon as the player assumes the role of their young Disc Ranger (shortened to DiscR), the old-school flavor of Disc Creatures is hard to ignore. It's you against the world and its various wild denizens or grumpy DiscRs looking to battle. After traveling around the maps a bit, it becomes clear that Disc Creatures doesn't rest on the past. While the capture mechanic is the most familiar feature, the battles are tightly constructed affairs where elemental weaknesses and status effects can wreak havoc on your team of three creatures if you're not careful. All the while the simple sprites and zippy chip tunes keep the adventure moving forward.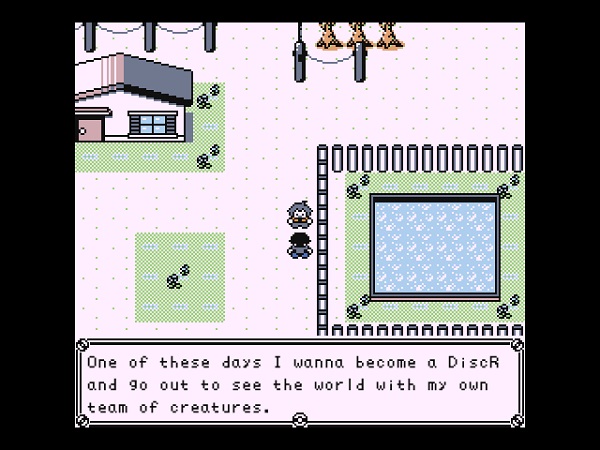 Assessment:
It's been a while since I played something as surprisingly charming as Disc Creatures. I side-eyed the concept because, with the recent disappointment many felt at Pokemon Sword and Shield plus the arrival of the MMO-centered temtem, it just seemed like Disc Creatures would be a quick clone too in debt to the past. Nostalgia is only the bare outline of Disc Creatures and I'm happy to write that so much of what it does well is because it deviates from what came before.
Disc Creatures would live or die on its battle system and that's where my nails started to wear down from the good kind of stress. Fights take place with your team of three creatures versus another team, DiscR, or boss. There's no quick switches to constantly play on the opponent's weaknesses. You have the three and, while you can switch out at a computer, that makes for some tense situations where I was knee-deep in a bad territory and realized none of my creatures were suitable for the task at hand.
So the "Ranger" aspect of being a DiscR takes a strong front face. I had to scout, consider the possible length of a journey, and test the waters with a crew before committing. The safety zones and heal areas are spread out just enough so that there's a risk assumed with each step of travel. Fights themselves are spectacular, giving the player the normal health gauge but also an energy bar that can be refilled while dropping the crew's defense. For tougher fights, this means trying to anticipate the moments when the opponents are going to drop their guard, or finding ways to cover yourself when a creature needs to recharge. This makes the battles proper skirmishes with planning and care taking precedence over power leveling my team to steamroll the competition.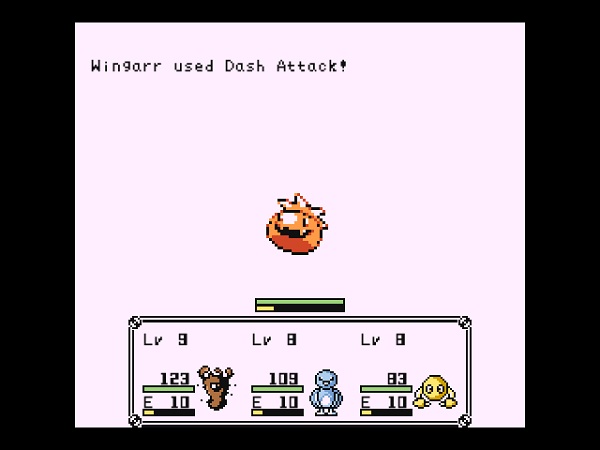 The charming art is joined by one of the best musical scores I've had the joy to listen to in some time. There's a twinkling element to many of the tracks, ringing just enough so that one bit of music flows well to the next. Kudos, also, to the developers for knowing when to ease off the music and sound effects to let words linger in the air. Despite all the cute creatures and chirping tunes, a bit of well-timed silence backed only by the text advance sounds made my DiscR's journey all the more weighty in a short time.
Though it's on the PC, Disc Creatures could stand for some updates that make it more user-friendly to play. I found out, in one horrible moment, that the key I used for screencapping also exited the game immediately. After losing that progress I looked for a way to change hotkeys and then also realized that there was no easily accessible system options to edit. Couple this with the fact that Disc Creatures only played in a window or screen morphing full-screen and what issues I had coalesced into wanting just a bit more user-friendliness in the delivery.
Game was played and reviewed using a provided review code of Disc Creatures for the PC.
The Review
Disc Creatures
Disc Creatures is a damn fine game, and I hope potential players aren't letting their inner cynicism lead them away from the charm. I almost did. But putting just a little time into the game shows that the developers were working hard to remember what they loved playing in the past while making an exciting experience in the present. Disc Creatures is not stuck in old ways and happily makes its own home in a genre that could have easily been a simple cash-in.
PROS
Challenging battle system rewards players learning the system, scouting out new areas, and cautious preparation over brute-forcing through levels.
Charming sprite art and music keep the journey moving on a jaunty pace.
CONS
Some accessibility and use concerns with difficult to remap controls and largely non-existent system options.
Disc Creatures DEALS
We collect information from many stores for best price available
Best Price
$15