Railroad Corporation DEALS
Subjective
Developer Corbie Games and publisher Iceberg Interactive present Railroad Corporation for review. Railroad Corporation is a shipping and research simulation centered around the golden age of train transportation. By planning routes, determining the best goods to buy and sell, and hiring the most skilled labor, the player may become the most profitable railroad entrepreneur in this storied time.
Objective
The bulk of Railroad Corporation's gameplay comes from laying track to most quickly, and cost-efficiently, transporting goods from one town to the next. The player won't need to worry about materials for the trains or tracks themselves as those are purchased outright. There are similarly no delays in laying the track or building new facilities, such as research offices or employment centers. This cuts down on the simulation aspects of running a train corporation and makes it a timed test of shipping the right materials to the right towns. Players can forego the timed aspect if they wish and focus entirely on keeping the trains maintained while hopefully running under budget.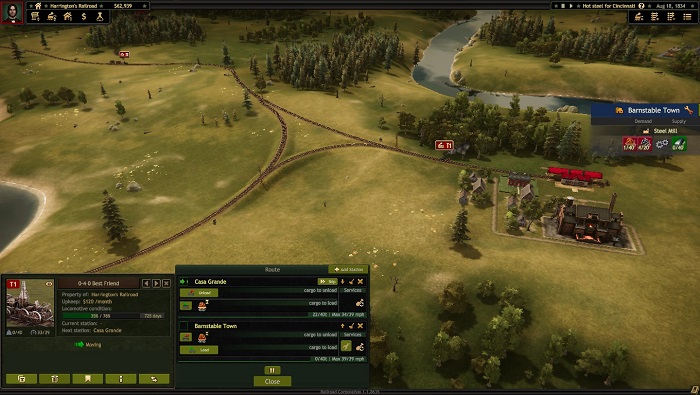 Assessment
Your enjoyment of Railroad Corporation is going to depend on one of the earliest decisions. Do you want to be free to build track and manage your engines with no restraints on time? Or do you want to have a clock ticking down on your primary objective while managing finances, personnel, engine health, and supplies? Without a clock, Railroad Corporation is a pleasant and lightly challenging affair that's not worth much discussion. With the clock, Railroad Corporation becomes a good puzzler where you need to lay track efficiently while working within the razor's edge of your budget to succeed in its missions.
Railroad Corporation is not much of an experience without the clock because there's not much to manage. Since track and engine material acquisition is just a small amount of clicks away, you don't need to worry much about what resources you need to connect the various stations. At worst, this has the feeling of an overly produced game of Connect The Dots while you watch engines dart to and from their destinations. The early game is often dull since there's not much management and all you're doing is waiting for the engines to deliver their goods. The money number goes up, you lay more track, maybe repair an engine or two, and eventually the mission ends with little challenge.
However, this is one of the two primary gameplay options available and is still an engaging time. The various engine models, their surrounding landscape, and city stations have a warmth in their lush greens and the glint of the sun on the engines or water. Folksy music gently pipes in to complete the inviting presentation as the sounds of your various engines chug along. This is disarmingly relaxing as the initially dull early game gives way to more complex considerations of buying your own factories while making sure you have the funds to pay the staff. It's never too complicated, especially with an extensive upgrade tree that cuts costs while increasing efficiency, but it's interesting enough to counteract any early game doldrums.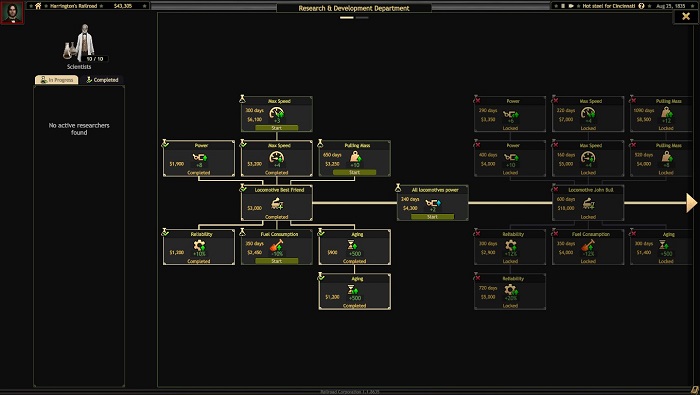 The real meat of Railroad Corporation starts the second you decide to turn on the primary mission timer. This turns Railroad Corporation from a light, pleasing, and modestly challenging game to a much more difficult one. You'll be pushing your budget, and testing the overdraft limits, while thinking much more carefully about where to lay track to limit additional digging or bridge construction. It's still not much of a simulation, but is more so an often nail-biting puzzler as you measure out the best paths for track and go over budget while hoping the engine with those profitable clothes lurches into its destination without breaking down. The change in challenge is so drastic that very different players are likely to find something that appeals to them in either mode.
There are drawbacks that unfortunately affect both modes of play. I was frequently frustrated at the too brief tutorials that didn't make clear how to best use the stations and offices. This leads to minor frustrations like searching how to hire people, and gigantic frustrations like spending over an hour assembling a product only to have it not count toward the overall mission because I delivered the correct product but didn't click the correct box at the target station. It also doesn't change that, at a certain point in either difficulty, you really are just sitting around watching a train set do its thing. There's not always something that requires your attention, and if you're the type that needs something to manage most of your time, then boredom is inevitable.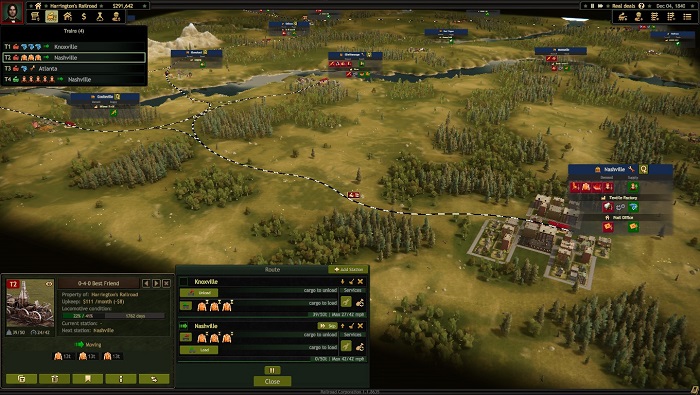 The Review
Railroad Corporation
If there's any aspect of Railroad Corporation's gameplay or aesthetic that stick with you, keep progressing. The depth of more complex simulations is absent but in its place is a sneakily involved puzzler that gradually builds in complexity. That complexity makes Railroad Corporation much more rewarding than the casual early gameplay seems.
PROS
Difficulty and complexity build well from the largely hands-off early game to more far-reaching decisions.
Game timer provides two very different modes of play for gamers who want to relax versus those who want to puzzle through their available time and resources.
Folksy music, warm art, and chugging sound effects create an inviting atmosphere for play.
CONS
Frequent patches of waiting around are unavoidable no matter the difficulty and drag the game into boredom.
Tutorials often provide too little information and can lead to frustrating time sinks.
Railroad Corporation DEALS
We collect information from many stores for best price available
Best Price
$35