Subjective:
Developer and publisher Square Enix, along with co-developer Bullets, present Saga Frontier Remastered for review. The title will be shortened to SFR for the remainder of this review. SFR takes the original Saga Frontier, one of the defining RPGs of the PlayStation-era, and applies updates to the graphics, plot, and playable characters. By making these tweaks, but keeping the core of the original intact, SFR hopes to reintroduce a new generation to its enduring oddness.
Objective:
SFR is a single-player RPG with seven main characters. An eighth option appears as a bonus with additional chapters added to the extra character as the stories of the base seven are completed. Each character has a different plot with different levels of roaming restriction. Some are restricted to a linear plotline while others allow roaming to multiple planets and villages straight away.
Combat begins when the onscreen character moves into the same space as an enemy. Battles are turn-based with semi-randomized progression. Each character powers up individually based on a chance to improve each of their vitals. Special abilities may be learned the same way as basic weapon attacks have a chance to spark the idea for a new technique. This may open up additional techniques, which then may combine with teammates' techniques to form powerful combination attacks.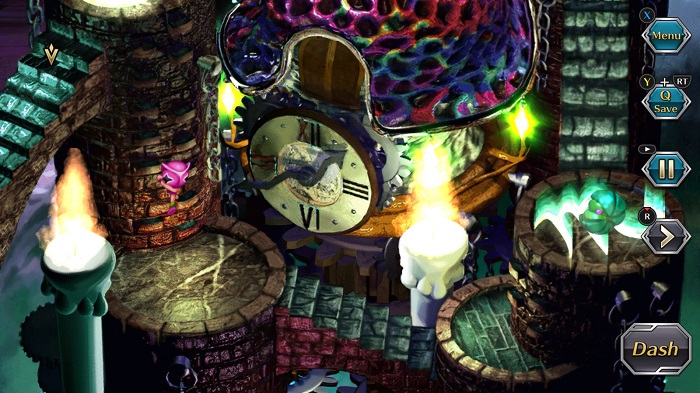 Assessment:
Square Enix released the original Saga Frontier in the middle of their period of experimentation with other aggressively odd titles like Xenogears and Final Fantasy VIII. Saga Frontier had the dubious distinction of being the most off-putting because, while its genre outlines were familiar, the assembly of genres was chaotic. You'd have vampire-esque mystics with horse-drawn carriages next to sophisticated robots birthed from artificial intelligence and planet-hopping superheroes all on the same planet. On top of the genre mashups was the sometimes chaotic battle system where lightbulbs would go off, enemies would die but also nearly wipe out my party, and the lone survivor would inform me in a text bubble that their Psychic went up.
As I came from Final Fantasy VII and Suikoden, both RPGs with familiar battle systems that I could absentmindedly hold confirm to win, this was all a bit much to take in. But Saga Frontier stuck in my memory and, to my now delight, I am not the only one who held onto it. SFR is a beautiful upgrade to its unique original and files down some of the off-putting systems that once left me cold. Mind you though – the systems didn't disappear. If you want to look up a specific character's spark chance during a specific battle rank for one weapon then have at it. But if you just want to play and take in the joy of discovery then SFR is just as great a time.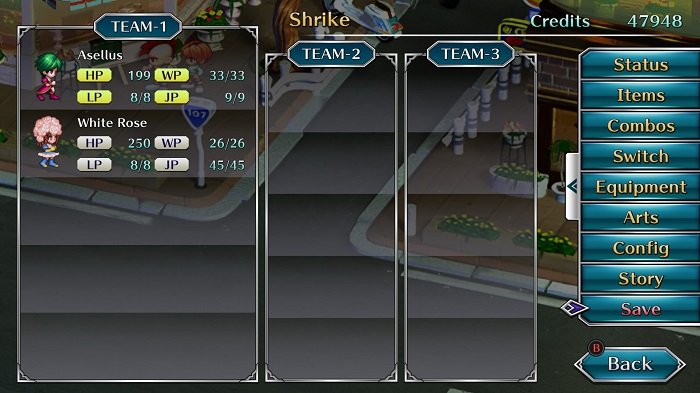 The greatest rediscovery is seeing just how much effort was put into making each of SFR's backgrounds a unique and thoughtful experience. All the vampires and robots could have been a chaotic mismatch but everything is backed up by some amazing visual storytelling. Environments are impressive on their own, such as a once-mighty temple overgrown with foliage, and no one screen is recycled with each transition entering into a new visual. What really wowed me is in the realizations going back to those environments for each of the main characters. The mystic vibes of an earlier visit take on a science fiction flare thanks to some choice dialogue from a fresh perspective and, all at once, I'm standing in a new area despite the visuals not changing a bit.
This is where the updated and cleaned up visuals in SFR strengthen the storytelling of the original. The unique detail in sprites was sometimes lost on the lower resolutions of the PlayStation. On my computer the tiniest wardrobe change is presented in clear detail without entering into the too-smooth realm that some upscaled titles from that era experience. It also means that the characters' combat encounters have an overwhelming wow factor similarly lost in the messy visuals of the original. There's a clearer distinction between model and effect with your efforts in learning the system being rewarded with some galaxy shaking combinations when I learned how to get my first party-wide combo off in combat.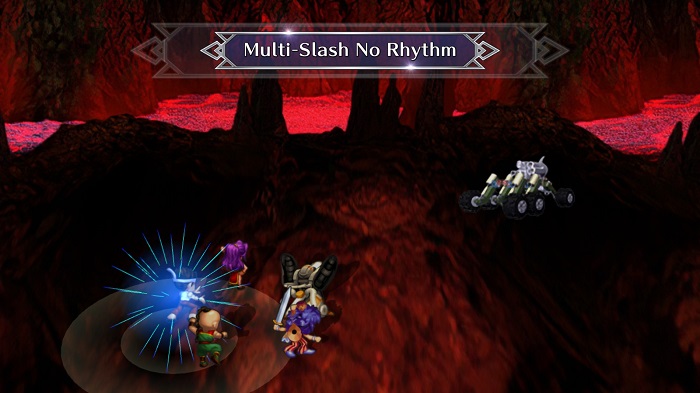 SFR's battle system is unchanged so those who were frustrated by the percentage chance of growth in the original may still find themselves dismayed. The upgraded presentation simply adds an aesthetic reward for those who wade into its mechanics. However, the New Game+ option is a boon for those looking to get through each story without grinding through the exact same side quests. It's a robust restart framework where you can choose to carry over individual stats, abilities, money, items, and even the difficulty. These options are fantastic if you're the kind of player who wants to steamroll the next character and then import everything except the strength of your opponents. Maybe you want increased difficulty but don't want to grind for abilities; you can do that as well. And since each playthrough unlocks another chapter in the bonus eighth character the pace of challenge is always going to unlock something new.
The only complaint I have is further exacerbated now since it's one of the things that made the original a sometimes difficult slog. Too often the next plot beat has to be activated in a specific spot and that location is sometimes difficult to find. Even with the included story summary the direction may be, "walk around." Unfortunately, nothing is ever as simple as "walk around" in SFR as it may mean "walk around to this specific spot," "walk around anywhere until these combats happen," or "remove these characters then walk around to this other character." Some firmer signposting of where to go in the story summary would have saved on the now decades-old frustrations of needing to look up what exactly, "walk around" means in each story of SFR.
Saga Frontier Remastered was reviewed on the PC using a reviewer-purchased code on the Steam platform.
The Review
Saga Frontier
That's a minor complaint about wanderlust in a game bursting at the seams with reasons to keep exploring. SFR is a magnificent update on a game that had the potential for greatness in my memory and now has hundreds of ways to experience its already impressive number of stories. Between SFR and Trials of Mana, Square Enix is on a remixing roll, exploring the bits of their history which could be improved on.
PROS
Every environmental detail, character, battle, or interaction is a lovingly specific individual oddity.
Little changes to battles and difficulty progression help players tailor the game's challenge to their pace.
CONS
Event triggers remain aggravatingly specific to move the plot along.