Subjective:
Developer GSQ Games and publisher Gamera Game come together to present Amazing Cultivation Simulator (which will be shortened to ACS for the remainder of this review). ACS is the latest entry into long-term building and life simulation. The twist is that ACS takes place in the realm of Chinese mythology where spiritual energies must be cultivated, spirits appeased, and wandering near-deities pleased… or punished.
Objective:
ACS is a single-player only title that is a combination life simulator and building manager. A lengthy tutorial is available for players who need a general overview of construction simulation or need to get more familiar with the intricacies of ACS' spiritual aspect. The player does not control pawns directly and instead issues orders for them to carry out. The typical resources – such as food, water, shelter, and recreation – exist alongside your pawns. As pawns grow spiritually, they eventually have no need for food or water, and spiritual resources such as Qi are used to craft artifacts, cast spells, and infuse life into the unexpected. Progress stems from balancing material and spiritual needs to develop into a larger sect with the ultimate goal of immortality.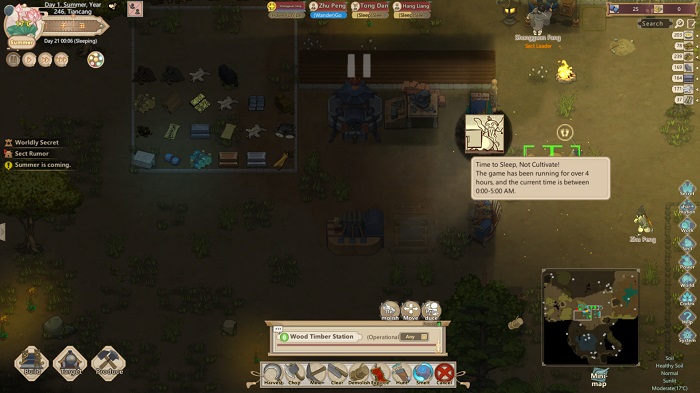 Assessment:
I'm a veteran of large-scale simulation games going back to the time I convinced my dad to buy our family SimCity instead of Mario Paint. I can safely write that, in my near three decades with this genre, I have not played something as punishing and wonderful as Amazing Cultivation Simulator. This is, perhaps, not a game I can recommend to everyone. But for those looking out in need of the next deep fix there is nothing like ACS.
What felt immediately refreshing about ACS ' approach was the lack of bars, charts, or graphs to worry about. Just about all the information you'd need to run a successful sect is right there in the primary interface screen. That said, there is an almost overwhelming array of options for both action and construction right away. I'm not docking this game for the complexity for two key reasons. First is that it's bundled with an excellent tutorial that left me well equipped for the challenge. The second is that the DLC packages, Immortal Tales of WuDang and Deep in the Bamboo Forest, are excellently priced and also each provide a wealth of additional options.
The typical cycle of build homes, grow crops, and entertain pawns is broken quickly with ACS' unique mechanic. Your pawns will almost immediately forego the need for food and drink when they meditate enough to ascend in a spiritual practice. They will no longer do physical labor once they ascend and the first of many tricky balancing acts come into play. You have to balance your pawns so that your sect is growing spiritually, but you cannot have everyone ascend at once or no one will bother to tidy up the place.
Since mood is a factor in successful ascension, you've gotta keep some mortals on hand, but those mortals aren't as durable. So you can run into the issue where special materials that boost the spiritual capabilities of a building (the first time I've taken Feng Shui seriously), but those same materials may set mortals or other components on fire. This resulted in some of the most fun I've had failing as I took in an artifact that plummeted from the sky and it turned out to set ablaze everything around it.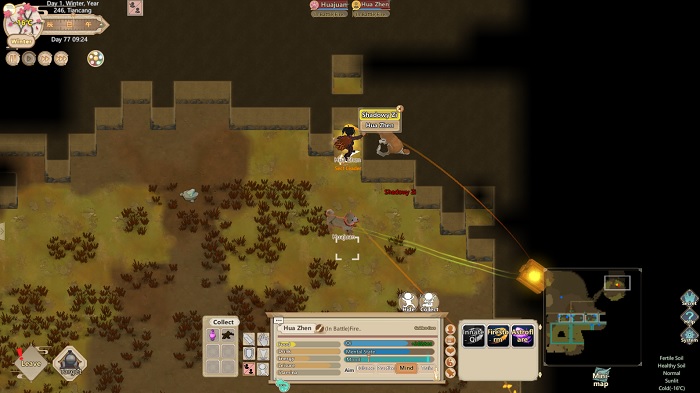 When I wasn't setting mortals and materials on fire, I was luxuriating in the welcome difference in aesthetics between ACS and other games in its orbit. I didn't realize how tired I am of the same Eurocentric approach in many construction sims until I was building a giant prayer stone, surrounded by guardian statues, next to a table that could turn literal in-game poo into artifacts of worship. Then with the Feng Shui, it forced me to keep in mind how everything in my settlement is connected, lest I throw off the spiritual balance and not strengthen my sect as much as I could. ACS forces me to slow down and consider how everything is connected instead of blazing through construction options, and that's a welcome mindful change.
This is echoed in the music and visual aesthetic choices. There's a wealth of diegetic music and sounds that keep me in tune with nature and individual actions of the pawns. The buildings aren't as standout either, forcing me to focus more on function and layout rather than if they "pop" visually in their surroundings. There's still options for flare if that's how you want to lay out your sect with big pagodas, tall strips of bamboo, and decoration aplenty. I don't have the taste for it, but if you want to have a sort of garish unity in your design that's an option you can work toward.
The big struggle with ACS at present time is the translation and some choice bits of design that could be better explained. ACS is an ongoing work in terms of translating information from Chinese to English, and that sometimes results in nonsense phrases from NPCs or frustrating vagueness when dealing with ongoing plot beats. It also leaves some design decisions out in the wind, like how if you choose any of the animal pawns at start they may be killed or turn into monsters as the a heavenly tribunal tests them. When that first happened to me one of my pawns suddenly became a giant blue demon murdering all in my sect. That was the only time the difficulty interrupted my fun instead of enhancing it.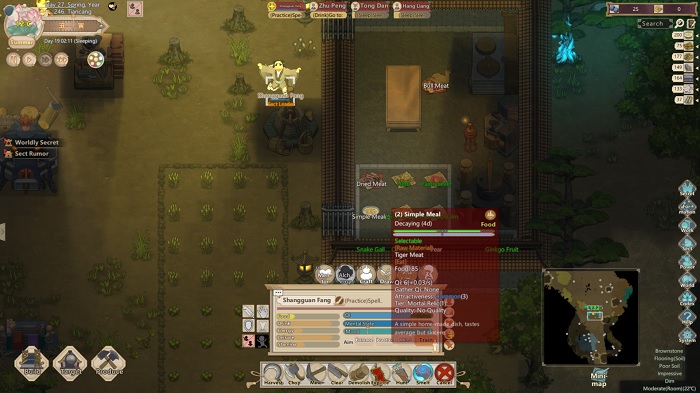 The Review
Amazing Cultivation Simulator
In the end, I have more stories bending toward the delightful when it comes to Amazing Cultivation Simulator. On top of the previously mentioned fire artifact, there was when I went on an adventure and acquired an intelligent chicken that now stares at doors to piece together sentient thought. It may be followed around by a living altar which bellows in laughter when its fed clothing. There's the first time I slayed a demon rabbit, finally understanding how combat works, and crafting its demonic remains into more powerful weapons. Those are the stories I have after a few days, and I can't wait to see what stories lay in wait over the coming months.
PROS
Unique aesthetic centered around harmony that may be taken as garishly or ascetic as you please.
An abundance of growth options from adventures, spreading the word, cultivating your spiritual strengths, and simply making your sect an appealing place to live.
CONS
Ongoing translation issues leaves purposeless nonsense dialogue and unexplained difficulty spikes.