Subjective:
Developer Igor Sandman, along with publisher Digerati, present the action/exploration adventure Guild of Darksteel for review. Igor Sandman has created a block by block pixelated world of dread, and a loose collection of immortal mercenaries comb the city of Ravenrock for work. There are many secrets hidden beneath the gloomy metropolis, and the player must guide their Sellsword to uncover a fraction of those mysteries. Utilizing a responsive combo system, catacombs for exploration, and a gaggle of NPCs Guild of Darksteel hopes to guide the player through a unique adventure.
Objective:
Guild of Darksteel is a single-player game where the player takes control of a wandering semi-legit mercenary known as Sellsword. Action primarily takes place in one-on-one melee combat where rhythmic timing of swings and blocks combine into combos which are unlocked steadily throughout the game. A big part of the challenge involves figuring out the opponent's attack rhythm so that the player might respond with combos within windows of opportunity for counterattack. Should the player fall to any of the enemies, they will be teleported back to the last location where they saved the game. The NPCs are dispensaries of information in an old-school format, sticking to one or two lines which may offer hints or detail about how to proceed. Guild of Darksteel is presented in a widescreen format utilizing pixel art which takes up every bit of the screen.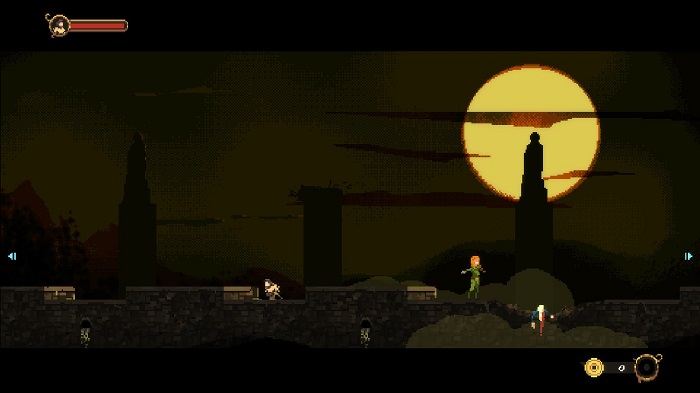 Assessment:
The grim reality for our world, slowly awakening to a post-pandemic state, is that "returning to normal" means returning to the same soul-crushing grind. Guild of Darksteel's greatest strength lay in this crushing normality. I speak to a guard who says they're forced to take collection money but takes a little extra for themselves. This is followed by the landlord who doesn't want to be injured by the guards and needs to make some money for themselves. And finally there is the peasant whose desperation has them contemplating crime or suicide. Each may help in the Sellsword's quest but it's not out of a desire for great honor or riches. It's for just enough currency to get by and avoid today's beating.
There's a big conspiracy, ancient evil, and yadda yadda yadda the standard grand adventure trappings. But Guild of Darksteel never lets go of the fact that everyone's doing what they're doing just to get by. This might sound depressing, and in one early exchange with a kid standing over their mother's corpse it almost dipped too far, but Igor Sandman's pixel art creates more dread and intrigue than depression. Igor's pixel art makes some of the best use of the Nintendo Switch widescreen I have played on the console. The art approaches the gothic stone mastery of the classic Castlevania graphics without the splashes of color for camp. This is a murky delight, excellently animated for the tiniest bits of ghostly motion in the background or tuft of hair dangling in the breeze, and suits the human-made mazes of death that lay below Ravenrock.
Igor's use of the Switch widescreen also stirs up another classic bonus. The Sellsword lumbers around, thunking into platforms, and struggles to find a path in a way reminiscent of Jordan Mechner's enduring The Prince of Persia. The Sellsword is not as nimble as Persia's prince, but they both traverse their environments with less than perfect movements. I love this weight, especially when the Sellsword is struggling up a platform, as it adds to the oppression of the environment along with the Sellsword's efforts to traverse it.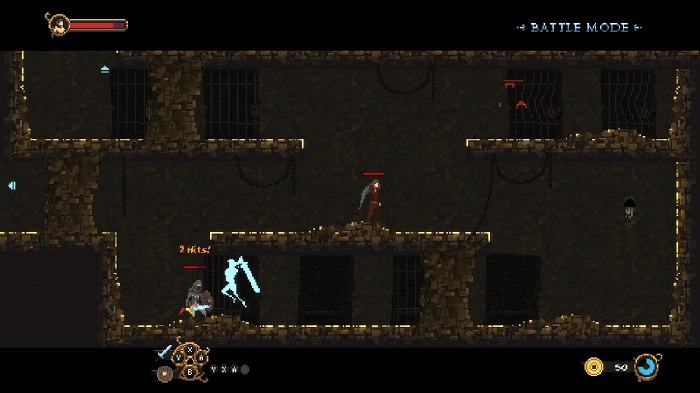 It speaks to how well Igor crafted this world that, with a bit of design tweaking, it could have been a more agile platformer. Instead there are combat breaks with emphasize the Sellsword's style of smacking foes with a sword so large Rob Roy is taking notes. Combat starts off with a simple block and counter-attack, but when the combos are introduced the effort Sellsword takes to swing their weapon takes center stage. It takes time to wind up for bigger attacks, and I needed to become familiar with each combo to deduce a counterattack window with each of my opponents. Players unwilling or unable to tinker around with the combo system, which boasts unexpected depth as successful combos begin boosting one another, can get through the game by simply blocking and counterattacking. It would take longer – and good gravy I'm uninterested in combing through the catacombs without the health-restoring combo – but it's good to know the option is there for those who may lament the lack of a difficulty slider.
All this oppression leads to the one negative Guild of Darksteel faces – navigation. Traversing the world as a player isn't the issue, nor is the lack of a mini-map or some other internal means of figuring out the lay of the land. I liked this aspect as it leans into Guild of Darksteel's more old school dungeon crawling sensibility. But there is so little change between major plot points with respect to dialogue from the NPCs. They're often the greatest source for navigational hints but some are saddled with the same lines throughout the game and, if you take a break while playing as I did, unless you make careful notes about where you were then you'll get lost easily. That on its own is not a bad thing, but combined with the largely static nature of the NPCs it creates an unchanging wall of frustration considering how much of the environment and the Sellsword's actions does change throughout the game.
Guild of Darksteel was reviewed using a publisher-provided copy of the game code for the Nintendo Switch.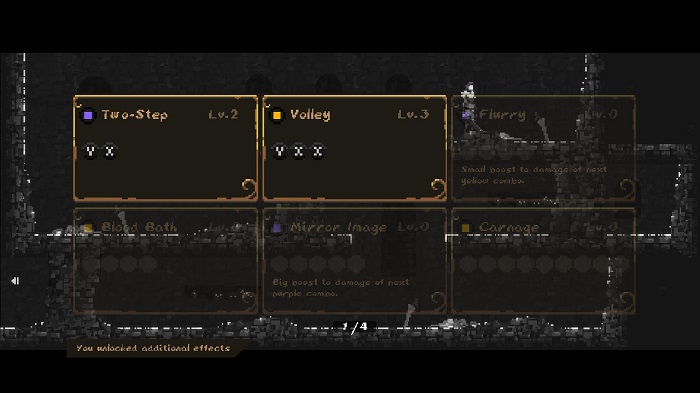 The Review
Guild of Darksteel
Static NPCs aside, Guild of Darksteel is one of the best Switch experiences I've had the pleasure of playing through. More developers should take notes from Igor's fantastic use of the widescreen in crafting their worlds. From the ghostly whisps, to the carefully timed combos, to the poor peasant just trying to get by - each frame of Guild of Darksteel drips with weight and dread. Just take a few extra notes about where you're going and you'll be able to partake in a fantastic extension of a great lineage of action/exploration games.
PROS
Among the best games to utilize the Switch's native resolution to create a deep, dark, and lightly oppressive atmosphere.
Consistent spotlight on the mundane nature of evil in each character's actions and dialogue.
Short and punchy combat that leaves room for personal expression in strategic response.
CONS
Too easy to get lost due to static dialogue and no guiding mechanism.