Subjective:
Developer Cereal Games, along with publisher Badland Publishing, present the Action RPG Pecaminosa. The player assumes the role of John Souza, former detective and currently staining his tanktop, as he is awakened by a criminal presumed dead. Souza has to follow a trail of crimes and clues to find out what happened to an old partner to lift his sudden haunting. Pecaminosa hopes to root the player in hard boiled dialogue, fast action, and steady growth as Souza follows the case.
Objective:
Pecaminosa is a hodgepodge of gameplay styles. The player will mostly wander around with John Souza in a twin stick format, acquiring weapons to aim at opponents with one control stick and moving Souza with the other. There are many character interactions the player may engage with, mostly getting quips but possibly obtaining clues depending on player stats. Successfully defeating enemies or making progress in the case will reward Souza with currency to buy items with, vices to heal (and later hinder), and experience points to level up Souza for additional gameplay advantages.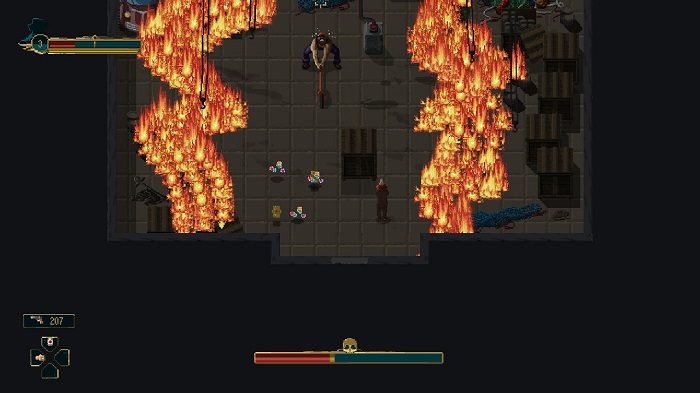 Assessment:
I am simultaneously the best and worst person to review Pecaminosa. Best as the recent wave of investigation games, including the likes of Disco Elysium and Jenny LeClue, is something I'm spending extra time playing thanks to their involving mysteries and multifaceted gameplay approaches. I am also the worst as it means Pecaminosa is rubbing against a gradually ballooning style of game and is not nearly as good as its contemporaries.
There's still some fun to be had, however. Cereal Games has a number of old film buffs on the payroll as there are plenty of references to hardboiled cinematic fictions of the past. Pecaminosa remembers that while the subject matter for those old stories might have been rugged, there was still plenty of humor to mine from the dark surroundings. Each line has just enough of a punch between humor and darkness without outstaying its welcome or becoming grating.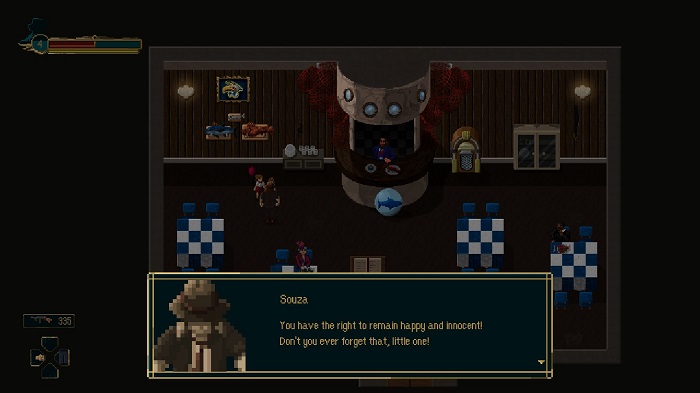 The set piece encounters of Pecaminosa are also solid moments of gunplay. Arenas often go up in flame as encounters progress (perhaps a nod to the end of White Heat) and the differing armaments aren't just for show. The end of one multi-layered encounter has Souza fleeing gunfire while walkways erupt in flame and getting too close to the head honcho results in a stabbed Souza. It was good fun trying to work my up close high risk shotgun style with a longer distanced approach.
Those moments are separated by the town of Pecaminosa which has neither the personality of the dialogue or the flair of the big encounters. It's a slow trot through a town with mostly empty buildings in dull black and white outlines. Plot-important buildings have some character and color, but are a small part of comparatively large sections of town. There's a taxi for fast travel (and a Taxi Driver nod in the name) but not close enough to any prominent destinations to put a dent in the dull trotting that piles up in playtime.
Which leads to the biggest issue with Pecaminosa – its own positioning as any kind of police or detective game. The best bits are action set pieces, the world in-between containing interactions full of binary choices which lead to the same result, and not a lick of interest outside the colorful rooms. The noir and detective fiction which Pecaminosa lovingly borrows from had worlds which radiated with life and danger, very little of which made it to the minute-to-minute gameplay. Little aesthetic touches like hats don't make detectives, a mystery and world worth investigating do.
Pecaminosa was reviewed using a review code provided for the Nintendo Switch.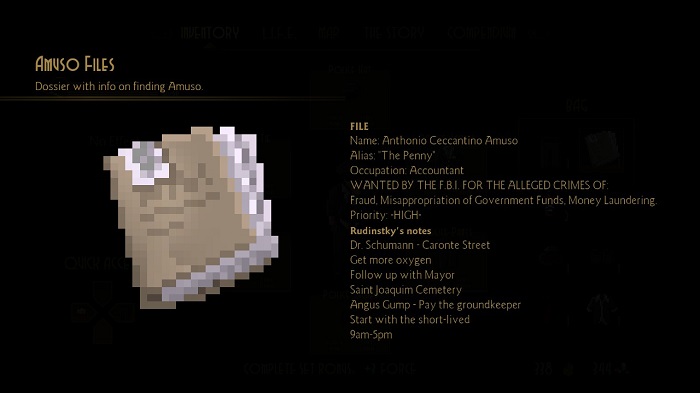 The Review
Pecaminosa
Pecaminosa is great for the wary player who knows the highs will be separated with a bit of amusement and a whole lot of trudging. A version of Pecaminosa which focuses solely on the big encounters could have had a Furi-lite spin with a Smash TV meets Dick Tracy vibe. Pare down Pecaminosa to those elements and it's a winner, otherwise it's barely a contender when there are so many other great mysteries to tackle.
PROS
Fantastic set piece encounters with named criminals have a pop detective vibe and plenty of environmental consideration in the challenge.
CONS
A big empty world is the splash of cold water to end the high of those great encounters.
Multi-genre but only the big encounters are fleshed out. Detecting is a binary, wandering is a chore, and moment-to-moment encounters mindless.