Subjective:
BRUTE FORCE, acting as both publisher and developer, present the colorful platformer Crumble for review. Crumble, fronted by a cheerful ball of goo, is a race against colorful environments as they fall away. You're given simple controls – jump, roll, swing – and (should you so choose) a timer to clock how quickly you get through each level. BRUTE FORCE aims to use these simple components to create a bevy of excitement as you race against gravity and other perils.
Objective:
Crumble is primarily a single-player experience. There is local 4-player mode that I was unable to play for the purposes of this review. The player controls a small colorful blob that lightly attaches itself to the environment and can be bounced around to higher jumps with carefully timed button presses. The colorful blob (which I'll refer to as CB for the rest of the review) picks up momentum quickly and can be pushed around by different weather effects once in the air. With sufficient momentum, the player may also utilize CB's grappling tongue which attaches itself to the environment and allows more airborne acrobatics. Progression is simple with each level set unlocking the next and bonus challenges become available which push the mechanics in different directions.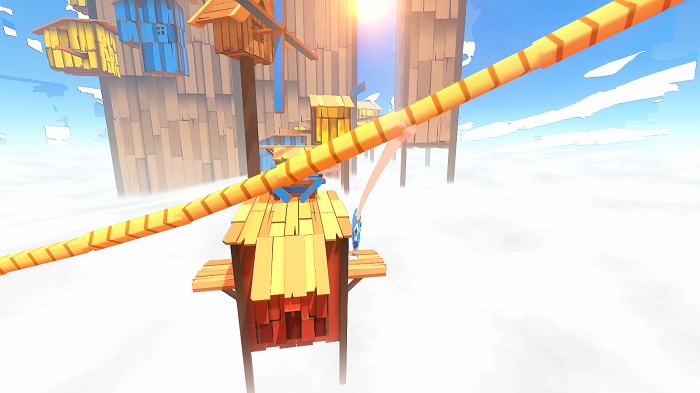 Assessment:
I reinstalled Crumble when I sat down to write this review because I forgot to get screenshots when I previously played it. The reason I forgot to get screenshots when I was playing Crumble is because I was so engrossed in the gameplay it didn't cross my mind. My mind was filled with equal parts "Oh god oh god oh god this is so much fun" and subconsciously making this face at regular intervals: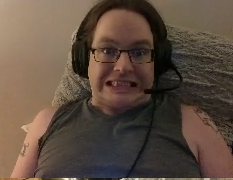 Folks, Crumble is the best platformer I've played in so long I have to reach back to the SNES-era to find comparable experiences. Crumble is so good that, when reading BRUTE FORCE's description of their own game, I found a comparison to Spider-Man. They sell themselves short by comparing the swinging experience of Crumble to Spider-Man. Crumble's moment-to-moment momentum-fueled gameplay is exhilarating to a degree no videogame take on Spider-Man has ever managed to be.
Crumble's brilliance is in taking the simple blob swinging concept and putting it in level sets that revolve around a gimmick. Sometimes I would be swinging against colorful canyons which provide thin layers of steady support. No sooner would I get used to those physics that bouncy mushrooms would get involved. Then I'd be on platforms which fall into the abyss if I dawdled too long. That'd be followed by explosions which have a chaotic effect on the already unsteady abyss-balanced platforms. That's when the wind kicks in.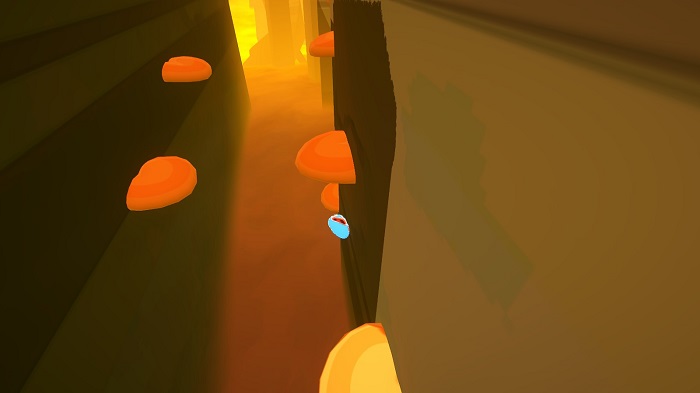 Those descriptions are for one world broken up into multiple levels. Crumble is always going in new directions and none of them are repetitive. Each one has its own surprises that introduces entirely new elements or builds on the previous. Nothing outstays its welcome and is changing so much that even those frustrated by repetition will be done with the level long before any stale taste sets in. Sometimes I'm swinging in a town, other times the land itself rears up in revolt that I'd dare try and traverse it.
Not one second goes by without jaunty, vibrant, and energizing aesthetics to back up the challenge. The music never overwhelms what's going on and always had me rolling CB positively to the next challenge. Then there's the matter of CB themself, who has a design that (if we're going to make any comparison) owes a light debt to the similarly cheery slime of Dragon Quest. But CB is far more jubilant than their cousin, and watching their smile get stretched, squished, blown away, and (so many times) launched into the abyss is reinforcing without being cloying. When faced with repeated failure or a seemingly impossible task, try to keep smiling and change perspective.
Crumble was reviewed using a PC copy of the game gifted to the reviewer from a supporter on the Steam platform.
The Review
Crumble
When I wrote earlier that I needed to reinstall Crumble to take some screenshots I got another delightful surprise. There's more Crumble to play. Each set of levels unlocks an additional challenge at the end. Are there even more challenges? How much of Crumble is still there for me to bounce through? I am positively giddy and the prospect of having more to return to, older levels to improve speeds on, and wonder at what challenges may be in store for CB in the future. Crumble is an absolute delight.
PROS
A gorgeous array of levels where the path forward is dictated almost entirely by how you choose to engage with the environment.
A perfect little protag, the jolly slime, whose physics leave just enough to chance outside skill to provide self-made thrills.
CONS
Too short, and that's stretching what I'd consider "bad" about this game.