Subjective:
Developer Skirmish Mode Games, along with publisher Daedalic Entertainment, presents Warpips for review. Warpips looks to recapture turn-of-the-century browser gaming with a few layers of modern polish. Players must marshal many military mercenaries to secure victory over increasingly difficult opponents.
Objective:
Warpips is, at time of writing, a single-player only title. It's a point-and-click real-time strategy game where the player starts with a single secure territory. Surrounding the player's start are enemy-held territories that may be invaded in any order so long as the targeted region is adjacent to a player-held zone. Each zone carries different risks and rewards for the player, and a successful invasion provides an array of items and units that may be deployed in future battles.
The battles begin once the player has selected a territory to invade and created their lineup of assault units. All units used, whether groups of soldiers or items, are in limited supply. So if you have five mercenary units and one missile, then use both in one battle, you will subsequently have four mercenary units and no missiles for the next. The player does not directly guide these units in battle as they automatically march forward to battle the enemy units and destroy their base. There are, however, player-controlled powerups which provide defensive or offensive boosts with some bonus armament which can be aimed by the player. The units are bought with money which generates in each battle and is subject to in-mission limits which may also be increased with money. Success in individual battles provide more units to use in the next battle, and players secure victory when they assault the enemy's headquarters.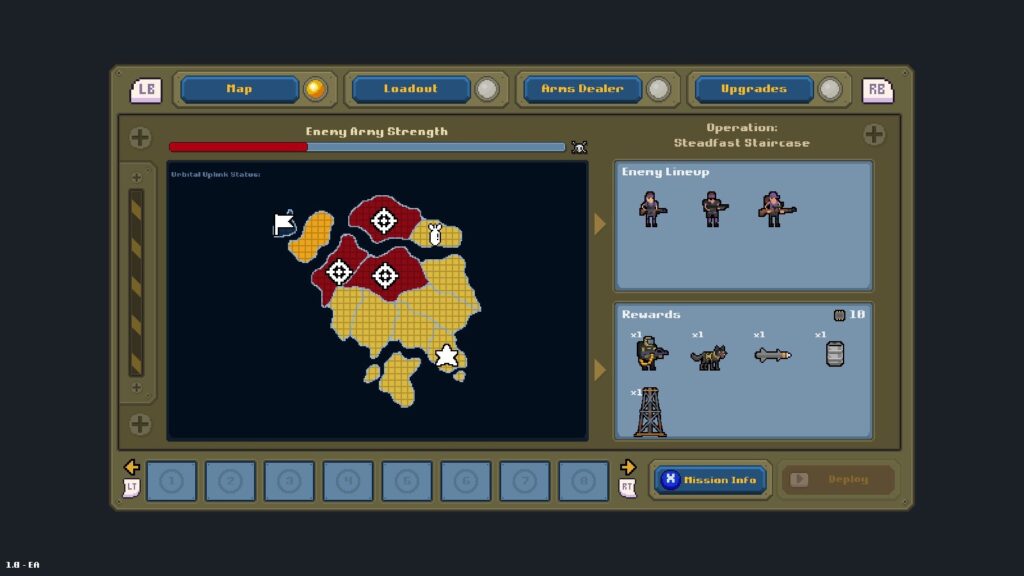 Assessment:
Adobe Flash, the developing platform of choice for amateur game designers and rookie animators, ended on December 31, 2020. It's a cruel joke that its life came to an end after a year which had so many of us locked indoors with a need for creative outlets. Since Flash ended, a number of compilation packages of games made in Flash have been released commercially. The developers of Warpips, Skirmish Mode Games, take a different approach through inspiration of Flash titles instead of simply repackaging them.
Warpips accomplishes the tricky task of being immediately replayable (a staple of Flash games) with an quiet emphasis on long-term planning (which was not a staple of Flash games due to shaky browser saving capabilities). Invasions play out quickly and I'd receive nearly immediate feedback as to if my unit choices were a good fit or not. I would just as easily stomp through one territory with a bevy of quick spawning mercenaries only to proceed to the next and get absolutely stomped by a small selection of armored opponents. There's hardly time to gloat or grieve each win or loss as matches barely went more than 15 minutes.
This might lead some to think that Warpips is disposable or, as was the case with Loop Hero, with its semi-idle nature leading to player apathy. If I had the right unit configuration to deploy forever, sure, the missions might have felt disposable. But since I was playing with a finite number of units it became far more important for me to consider which territory I chose to attack. I would be rewarded with the missiles I loved to shoot, or left with the attack dogs which felt a bit too flimsy, and carelessly clicking through or being inattentive with my always-marching-forward troops meant short and long-term disaster. I always had to adopt my tactics to the units available as it sometimes meant slowing way the heck down on my offensive push to select defensive sandbags for cautious advance. Otherwise I'd be met with a plethora of exploding pixels where my once friendly units once stood.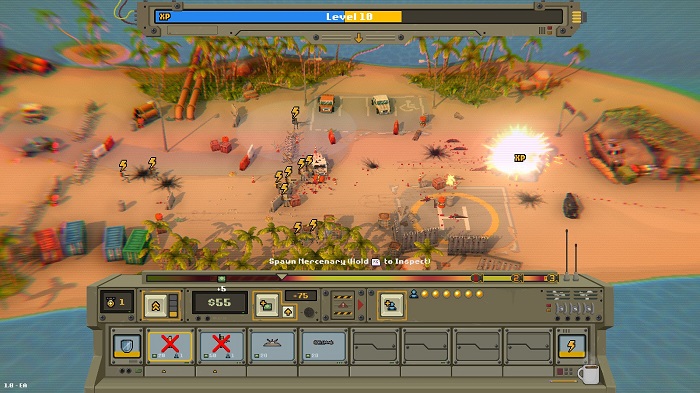 The graphics and unit models are a great blend of this fragile deployment mixed with the potential for long-term offensive pushes. Each pixel fighter has these thin limbs that carry large packs of equipment compared to the firm blocky frames of armored vehicles. The view of Warpips blurs the outer edges of the screen so much that those same individual units become indistinct. It's when you're focusing specifically on the ground they gain that you can watch all their individual animations and mighty offensive pushes in clear detail.
This 1-on-1 cautious planning to guided chaos combat practically screams for multiplayer matches. Give each player an equal amount of armament points to spend, plop them on a map, and let them go at it. That there's no multiplayer option is odd but may also be a side-effect of Warpips' current release being early access. There's such a strong base here though that it doesn't feel early access until I consider features like this. It's the nature of the economy and game design that early access is almost required for smaller titles to catch on with any hope of survival, and I hope that Skirmish Mode Games will be able to add multiplayer to this strong foundation in the long run.
Warpips was played and reviewed using the PC version on the Steam platform from a publisher-provided code.
The Review
Warpips
Warpips is a great extension of the Flash games it draws inspiration from. Whether you want to focus on the moment with quick skirmish matches, or dig in for the long haul with armament decisions in the campaign, it'll play with bursts of addictive strategy.
PROS
Great blend of Flash-era burst gameplay and long-term strategic planning.
Unit design and out-of-focus borders strongly emphasize the fight for each digital inch.
CONS
No multiplayer is an odd decision with a base game that is built for live competition.