Subjective:
Mografi, acting as both developer and publisher, present the detective adventure game Jenny LeClue – Detectivú for review. As the main character is named in the title, I'll be referring to the game itself as Detectivú and the main character Jenny LeClue as Jenny. Detectivú aims to fill a niche once occupied by Harriet the Spy. The player takes control of Jenny, the protagonist of a long-running series of YA detective novels, as her creator Arthur K. Finklestein struggles with his publisher's demands to make Jenny's world darker. Dual tensions play out as the player investigates with Jenny to try and clear her mother's name in a murder mystery, all while Arthur snacks and panics through the writing process of the very mystery Jenny aims to solve.
Objective:
Detectivú is a single-player game with the player primarily assuming control of the titular Jenny. The story will sometimes break away from the in-novel murder mystery to step into author Arthur's shoes. Navigation in both takes place on a simple two-dimensional plane with light platforming. Detectivú sometimes breaks away from the 2D platforming to present their parallel adventures in an overhead view. Progress is made by speaking with different characters, documenting clues and statements, then forming connections between different facts of the case. There is no fail state, but also few hints as to how each clue intersects, and will require some deduction on the player's part in order to piece together the mystery.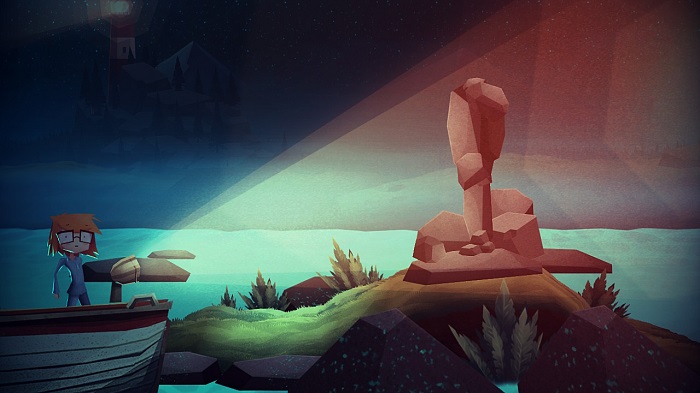 Assessment:
The quick overview of Detectivú is that it is the result of fusing the adult frustrations Night in the Woods platforming with the simple detective stories of Encyclopedia Brown. Having spent hours expounding on the power of the former and a childhood piecing together the mysteries of the latter, I'm about as perfect a target audience as can be for Detectivú. For the rest, Detectivú is a deviously complex narrative package presented in a straightforward manner. It will reward both those looking for a breezy adventure and catharsis to players who realize that the storm which follows a breeze can be devastating.
The primary conflict of Detectivú isn't even the murder mystery Jenny's mother gets roped into. It's the tension between Arthur and his attempts at giving the publisher the grittier narrative they want while not losing the innocent simplicity of Jenny's world. The writers at Mografi walk a fine line between a transparently self-referential story and simple narrative, but they pull it off magnificently since Jenny is going through her own period of rebellious growth. Jenny will be sparring with Arthur, commenting on the case, and arguing with other in-universe characters all within the same scene and Detectivú works on each of those levels.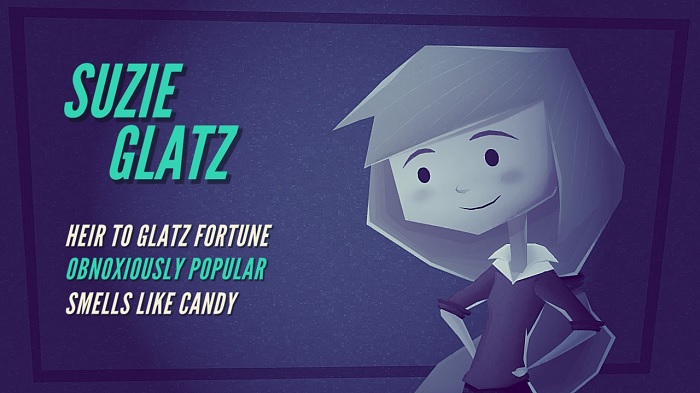 Aiding this complexity is the fact that Jenny isn't a very kind person. She's isolated from people primarily by choice, even if there's a certain virtue in making friends with the town weirdos. There are multiple scenes where she's so in the wrong that even Arthur chimes in to lament what he's doing to his treasured character. The voice acting, which is a nice touch for this '90s-era point and click aficionado, continues to toe the line deftly. Jenny's got a smart aleck mouth at times, sure, but the edge in her voice when dressing down others takes a mean form because of her failure to read the room.
Presentation aside, Detectivú has a robust investigation system to comb through. Not all clues are required to finish the case and many are decorative notes which Jenny adorns her trusty journal with. Forming connections isn't an illustrated path. The player is usually selecting three options from a list and Jenny's reaction determines how close they are to the truth. So players who simply click through the dialogue or try to find all the clues as quickly as possible are going to be at a disadvantage to those who make their own mental notes as to who is doing what. The reward, watching Jenny scribble through the connections then arrive at a conclusion, can at least be brute-forced if absolutely necessary.
While Detectivú is not an overall complicated game, its focus on presentation over simple detective systems does mean there are sections which meander without focus. In terms of gameplay, this might mean wandering map sections with no specific goal in sight and no system of personal note-taking or objective markers which gently encourage that I'm on the right path. It was so bad in one boat section that I had to revert to an earlier save twice to trigger the dialogue with both the hints and flags for advancement. Since these sections were similarly devoid of character interaction, all I could do was silently putter around praying the investigation would take its next step.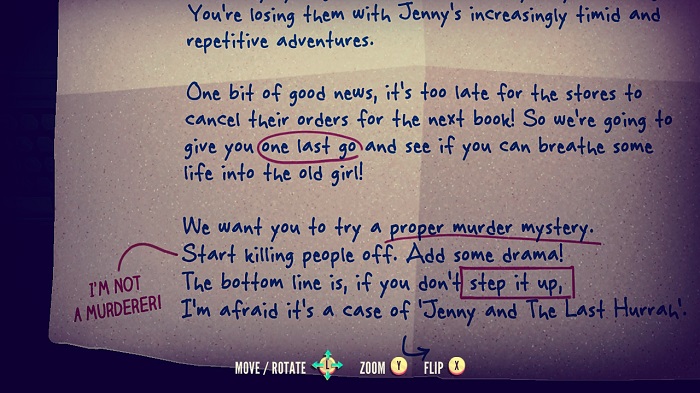 Jenny LeClue – Detectivú was played and reviewed on the Nintendo Switch using a reviewer-purchased code.
The Review
Jenny LeClue - Detectivú
The few bits of meandering aside, Jenny's a superb protagonist in a pretty good game. Detectivú won't hit the emotional highs, nor even the clever "ah-hah's", of its predecessors. But it's deft touch in walking several lines of reality in its writing, starting with adolescent frustrations and going into adult blockades, is so much more rewarding than the jaunty figures and at-a-glance simple story would suggest.
PROS
A very engaging story that balances depth and levity
Satisfying gameplay that is equal parts complex and simple
CONS
Some sections can be directionless, making progress somewhat difficult