Subjective
Game developer collective Thunder Lotus presents Spiritfarer, the third title among its growing library of games. You play as Stella, a young woman tasked with the responsibility of "ferrymaster to the dead," finding spirits among the vast overworld and taking them to the 'The Everdoor' to say their final goodbye. Sail from island to island, build up your ship, and find yourself intertwined in the lives and deaths of the spirits you carry aboard.
Objective
Your role as Spiritfarer goes far beyond taking the deceased from point A to point B. The majority of your time is dedicated to maintaining the needs of your passengers. Every action you take is to assist them in settling the unresolved issues before taking them to the Everdoor to fully embrace their deaths and leave their living days behind them. You serve as chef, providing meals that they will not only eat but enjoy. You serve as bosun, building facilities and upgrading your ship as well as improving your passengers onboard accommodations. At its core this is primarily a resource management game with occasional platforming segments and mini games. Aboard your ship you'll explore a variety of islands at a controlled open world pace, picking up spirits who seem to know you along the way. You collect wood, ore, produce, fish, gems, and a number of unique materials to craft, cook, and upgrade your vessel while unraveling your true purpose as the Spiritfarer. Take on unique side quests and tense beast encounters as you and your passengers prepare for their final goodbye.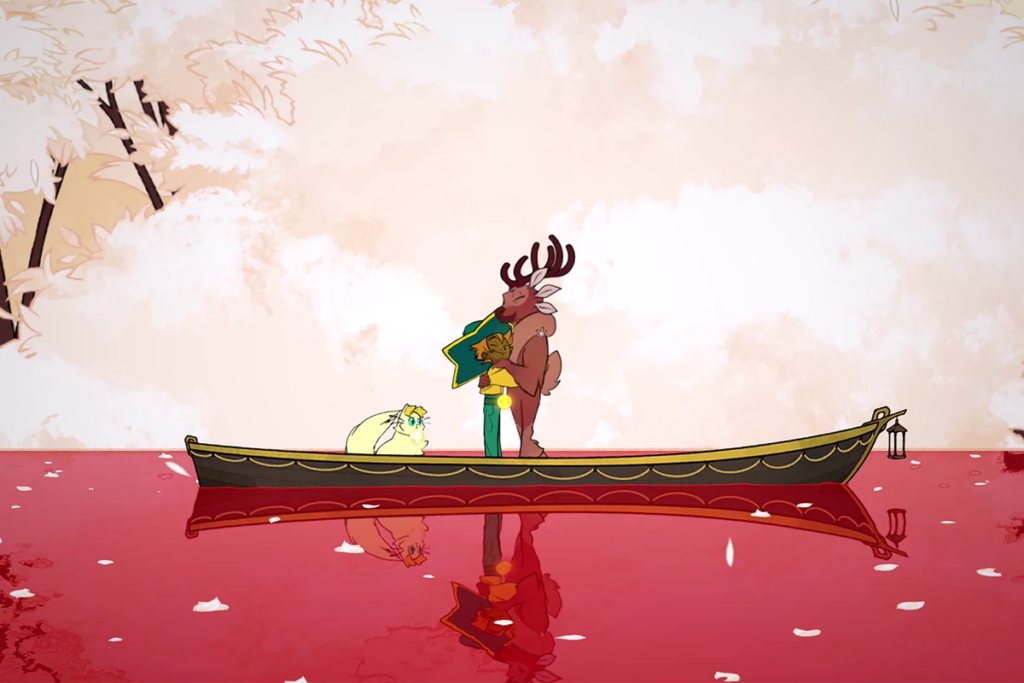 Assessment
Spiritfarer is a narrative-driven, progressively open world platformer hybrid with resource management and minigames that blend perfectly into an immersive and deeply moving experience. The controls are tight and effortless. Running and jumping feels satisfying and free, and there's a variety of platforming and mini games along with a huge variety of resources to manage. Each one of the spirits you encounter has so much personality and heart it makes every goodbye wrench at your heartstrings. The juxtaposition of the fantastical world and animal characters to their very obviously human souls underneath creates a ever present dissonance that reminds us who they are and what we are there to do. The art is breathtaking and alive, and its obvious the amount of time and care that went into animating the sprites. Expressions, idle animation, backdrops are all intricately crafted and detailed.
When most people hear the words 'hospice' and 'palliative care,' a heart-clenching panic sets in. It's the beginning of the end, the giving up, the abandoning of all hope. Palliative care and hospice are synonymous with dying, and most people don't know the difference between the two. Yet what many people don't realize is palliative care can go on for years, that people can and often do travel back and forth between the two, and that for many there is no clear and straight transition to death and dying. Spiritfarer brilliantly captures the sentiment that accepting one's death and the process of dying is a wandering voyage in it's deeply personal characters, breathtaking visual style, and open-world gameplay. The objective is clear from the beginning, and yet each goodbye is approached from a completely different angle such that any player could easily see their own family or friends in these characters.
Physicians hold both a privileged and burdensome role in the lives of patients. In many ways we are their guide through the overwhelming and frightening unknown that is medicine. Patients look to us for answers and unwavering reassurance that their problem is nothing to worry about and that they'll be just fine. Palliative care and hospice care subvert this role. On all fronts Spiritfarer is a beautifully crafted story and gameplay experience that's exceptionally worthwhile and was among my top favorite games of the past year. It served as a brilliant glimmer among the dark days of the pandemic and I'll be eagerly returning for the DLC content.
The Review
Spiritfarer
An emotional and wandering journey with spirits as they are ferried to their final resting place. Resource gathering and light platforming make up the gameplay, backed by an impeccably crafted aesthetic and narrative.