Kentucky Route Zero DEALS
Spoilers for locations and scenes of all five Acts of Kentucky Route Zero are below.
Subjective
Developer Cardboard Computer and Publisher Annapurna Interactive present Kentucky Route Zero for review. Kentucky Route Zero is a narrative steeped in magical realism and surreal environments.
Objective
Kentucky Route Zero is a single player narrative-driven game taking place over five Acts with accompanying interlude episodes. Gameplay follows an expanding cast of characters to accomplish the task of delivering some antiques to a mysterious address that isn't listed on any map. KR0 first released in 2013 with the last episode releasing after a significant wait earlier this year. It is available for PC, Switch, PlayStation 4, Xbox One, Linux, and OS X.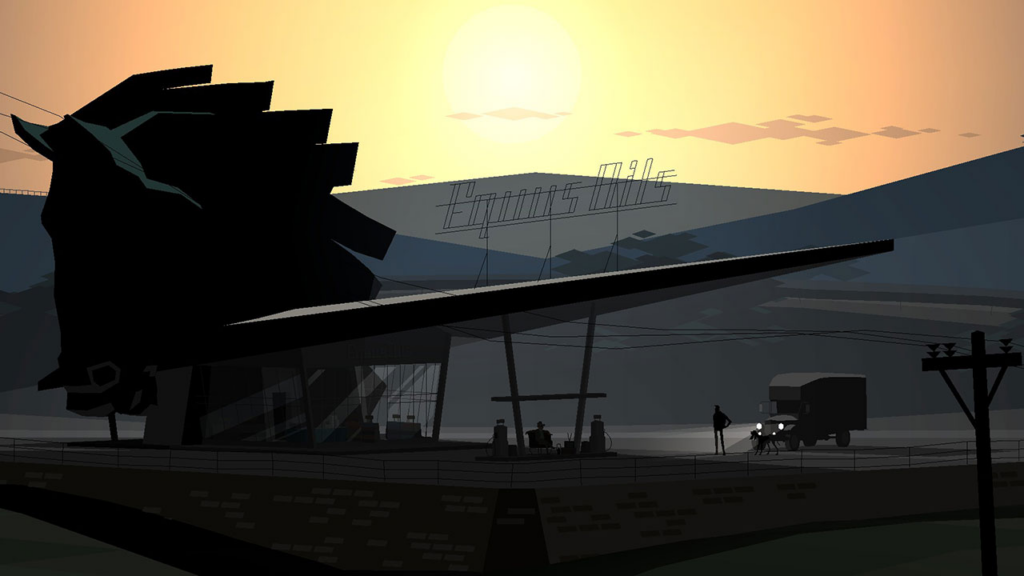 Assessment
Kentucky Route Zero opens at sunset with a buried horse. The horse is the Equus Oils gas station, a sleepy place with a man named Joseph sitting near the pumps. Conway, a delivery man with an old dog looking for 5 Dogwood Drive, seeks an address that doesn't seem to exist. After a short jaunt to the basement to turn on the power and check the computer, Conway is told he needs to take a mysterious highway called the Zero to finish his delivery.
This begins a five Act story that spans the familiar and unfamiliar as Conway drifts steadily closer to 5 Dogwood Drive on the Zero. As Conway travels, he is accompanied by an increasing cast of traveling partners, ranging from a boy with a giant eagle for a brother and two escaped mining robots who have found a new career in music.
Gameplay in KR0 is simple but does exactly what it needs to do. Characters are controlled by mouse clicks and dialogue is advanced by picking several options. These options feel different from other dialogue choices, however. There's something about the writing in KR0 that makes dialogue feel like less a choice one makes and more a gentle momentum that carries one forward. There are no fail states or encounters that would render the game to have any difficulty, though the incredible quality of writing does require a fair bit of focus to appreciate. Everything is connected in KR0, and even an opening line by the man at the gas station becomes an important plot point to the attentive player. The interludes are especially important in connecting some of the world together in surreal yet genuine ways.
The setting of KR0 is difficult to explain, as no description can really do the game justice. One could write the game takes place in an underground road detached from reality or a graveyard taken over by an underground distillery but it simply isn't enough. KR0 goes to places that are only given justice by direct experience, as the player can immerse themselves as an invisible member of Conway's group. The setting is augmented by the incredible and uniquely identifying art style, which is minimalist but escapes any feeling of seeming cheap or rushed. KR0 definitely feels like the art style was selected to suit the game's settings and not simply because of a logistical need to do so.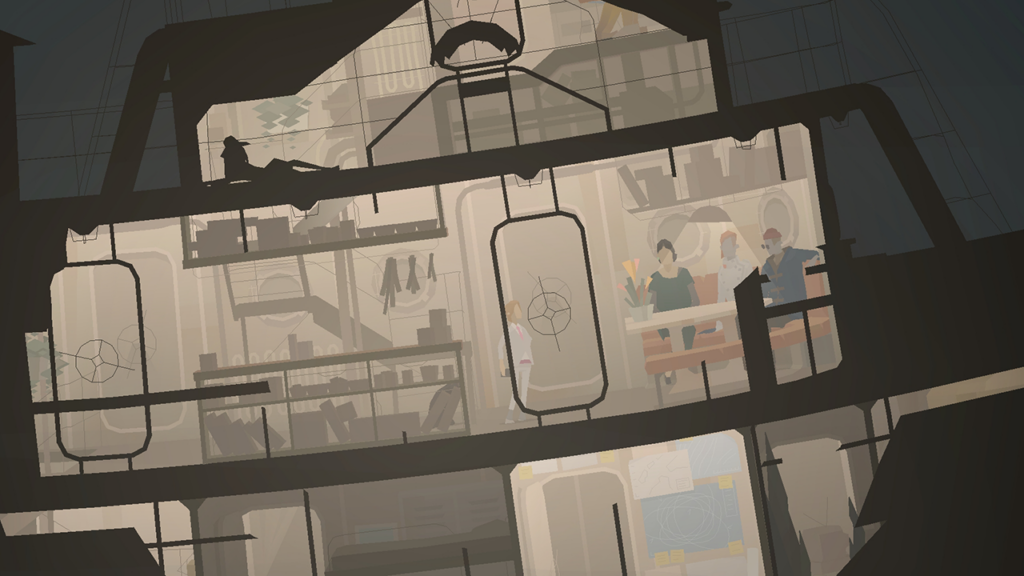 One of the game's most striking locations is the Echo River, a winding, cold, and mysterious river that runs near the Zero. Nothing is static on the Echo, with unmoored restaurants and gas stations floating where the current takes them. Islands rise and fall, perhaps with a pattern, perhaps not. But yet at the same time the Echo's permanent changeability makes it a static place as well. Time seems to fade away during the party's time on the Echo, floating from place to place experiencing small vignettes along the way.
It's these vignettes and scenes that make the experience of KR0. As with the setting, these scenes defy simple description. You watch androids play a song at a rundown bar. You run a computer simulation that may actually be reality itself. You get carried by an eagle to find a doctor in the woods. None of these scenes can be truly described as the art, sound, and ambience of the game come together to build moments that are like nothing else in the medium. It's something made to be played at night with nothing but the light of a monitor or television.
But what this game truly excels at is the quiet.
The quiet moments in KR0 are moments that are simply unmatched in gaming or otherwise. Common enough to feel deliberate but rare enough to always remain magical, these are moments that rank among some of my most memorable in gaming. One quiet moment involves simply walking down the stairs of a floating restaurant as a sleepy bluegrass band plays a mournful tune as they float down the Echo. What really strikes me about these moments is that they all feel so important and heavy and real but at the same time still completely fantastical. The player can several times see that bluegrass band in the foreground as they play but I cannot confidently say if their music is diegetic or not. I'm honestly not sure there could be a definitive answer to that question.
I remember a time last year when I went to visit some friends for a small gathering. Nothing special, no going away party, just an evening of hanging out. Sometime late, after everyone else had left, it was just me and the two brothers that lived there. One asked if we were hungry and we all set to making some tacos with whatever we found in the house. It was about 4 a.m. when we were eating and for a few moments there was a lull in the conversation and it was just quiet. Just three friends sharing a meal minutes before the sun would peek over the horizon. One of those moments where the magic of it is whisked away the instant it's realized what's happening. KR0 reminds me of moments like that. It's not so much the journey that makes KR0, it's those ephemeral spaces in between.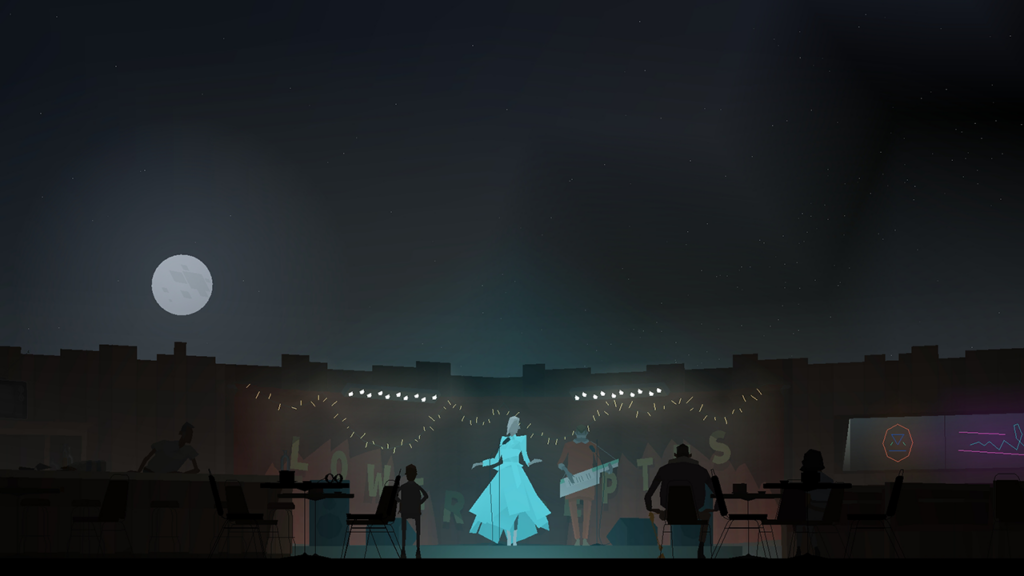 After a several year wait between Act IV and Act V, it goes without saying that the focus of many players is how the last Act delivers. I'll begin by saying that if the last time you played KR0 was several years ago and you start with playing Act V you're likely going to be disappointed.
Act V is a denouement in the truest sense of the word. As such it is not going to feel compelling for people looking for a sharp end to the story as much of the action already wrapped by the end of Act IV. What it does do though is present an incredibly somber and quiet exploration of a small town ravaged by a flash flood. That flood took the lives of two horses referred to as "the neighbors" and the sense of loss, despite the player never actually encountering them while alive, is deeply palpable. Juxtaposed with the loss of the horses is the discovery of 5 Dogwood Drive, which seemingly appeared overnight and over the course of the Act slowly fills with antiques brought up from the delivery truck below and rescued effects from the town itself.
The final scene is a perfect send off to the journey that not only the characters, but also the players, have been on during the years waiting for KR0 to finish its story. As the characters have winded their way through places fantastical, so too have the players been continuing on their own paths. Ours may not be as fantastic as the Zero, but everyone that left Act IV what feels like ages ago all came back to gather around these few moments of narrative.
A poem is read, a song is sung, the horses are buried. The masterpiece of KR0 ends its tale also with a buried horse, but this time with the hope of a bright sun.
Kentucky Route Zero was played on PC with a reviewer-purchased copy of the game.
The Review
Kentucky Route Zero
Kentucky Route Zero is a masterclass in narrative and setting that is unmatched by any other entry in the genre. This is a game that simply must be experienced and there is no better time than now as the game has finally reached the end of its story.
PROS
Unmatched narrative and setting
Excellent art style and sound direction that sets the mood for the current scene
Features an old dog in an old straw hat
CONS
This is a game that requires focus and attention to fully appreciate. This is not something to play with Twitch on another monitor or a phone buzzing on the desk.
Kentucky Route Zero DEALS
We collect information from many stores for best price available
Best Price
$25