Subjective
Developer Kaizen Game Works, along with publisher Fellow Traveler, present the open-world detective game Paradise Killer for review. Paradise Killer hopes to continue the trend of strong investigation titles in the vein of Disco Elysium and The Return of the Obra Dinn while putting its own unique spin on the genre. The characters thrust their hips forward, expose bare chests, speak of their pain afflicted and endured, and embrace decadence beyond pleasure in their bids for memorability. Whether they fit in amid the demonically-infused landscape of crying gods and towering skyscrapers filled with kidnapped worshipers is another gamble on quality and cohesion.
Objective
Paradise Killer advertises itself as open-world, but is equally as open-ended. After a brief introduction to the PC Lady Love Dies and her computer assistant Starlight, the player is able to go straight to the judgement after as much or little investigation as they would like. The first-person perspective means poking around the different homes, murder sites, and temples that once housed godly residents and doomed worshipers alike. There is some rudimentary platforming to get to some conversations and evidence, but most of Paradise Killer can be traversed with walking and minimal jumping around. Lady Love Dies investigation is aided by Starlight's auto-assignment of evidence toward the primary and secondary cases, quick travel options which use limited in-game currency, and possible movement upgrades that lead to the unveiling of even more island secrets. Player have their fill? Time to talk to the floating multi-faced embodiment of judgment to piece together their truth.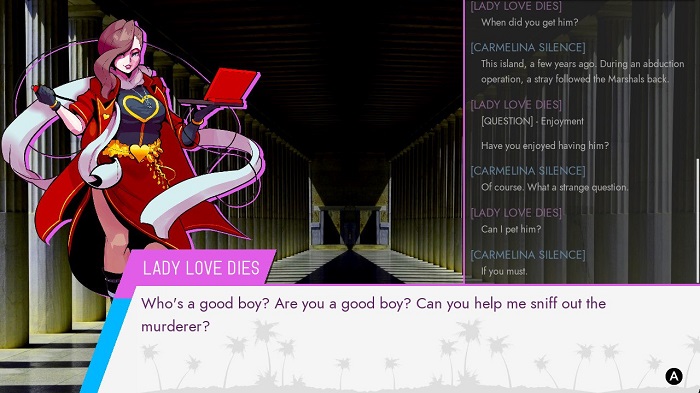 Assessment
It's easy to stand back, adopt an air of unflappable cool, and tell someone that they are entitled to their opinion but not facts. Yet as time marches on, we discover what facts we may agree on depend on more than their existence, repeated testing, or emotional case. The fact is the sun may hit a color which is factually black in the shadows then blue in the light. The truth is that perception alters the facts, and we start diving into the mess of emotions that affect perception we may start to wonder just how we arrive at any kind of shared reality.
Paradise Killer's only solid truth is that the player may start and then finish the game whenever they wish. Everything else is built on a universe where aliens came down from the stars, called themselves gods, found ways to feed on the belief of mortals, and can still be killed. How is it that gods can die? Well, turns out the fact of their power and supposed immortality is nothing compared to the cold reality of death. Then how do we account for the ghost? Find your own truth about that ghost or don't, it's not up to me how you decide to make sense of all this.
This is an existential quest for something that no one can know for sure told by unreliable people in a world set to die. I either needed to find my own meaning or quickly hit the power button. It's when I accepted that the only contentment I would find is what I made for myself that Paradise Killer's mystery completely enveloped me. So instead of the murder I was supposed to investigate I was more interested in why the snide Yuri Night, recent addition to the powerful Syndicate, skirted just shy of outright telling me they did some dirty deeds for the endlessly flexible architect Carmelina. That led me to question a crime long thought solved involving the suffering civilian Henry Division but – wait – what's going on with Henry's family? How does this involve the tunnel I found behind the bar of the talking skeleton?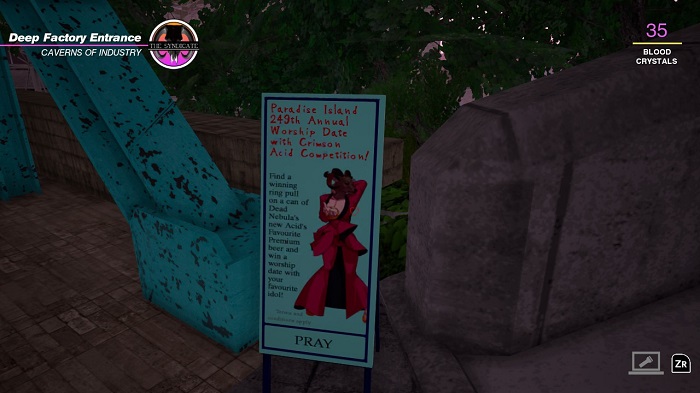 That one thread, carefully investigated, in Paradise Killer is enough material for its own game. It slots comfortably next to the main case, all the other threads I picked up, and learning about this terrifying world. The exaggerated sexiness of the suspects is made creepy by the way their flattened frames constantly turn to stare at Lady Love Dies no matter where she is. It's hard to feel alone the more I recall their strange pivoting and multiple systems set up to spy on systems set up to monitor. Then there's the corridors, hidden or in plain view, leading to other revelations which may say more about the suspects than the case. And since that very first thread I decided to follow stemmed from my distaste of Yuri Night I've got some rough questions to ask about my relationship with the truth. That's when the horror hit me.
Kaizen Game Works designs all these threads, lead, corridor uncovered, or fact documented, into authoritarian oblivion with a viciously American sheen. Paradise Killer is all about the good little soldiers who keep the sheen of society rolling through blood. Lady Love Dies, though she may be cool and sassy, is one of those hands-on tools. The only reason anyone functions under an illusion of immortality is because they haven't been caught up in someone else's plan yet. That's why all the advertising and self-aggrandizement is important. The larger the spotlight the easier it is to get everyone to accept your truth instead of someone else's.
So I move on, click the currency, spend to find new ways of navigating through everyone's layers of deception, and question whether I'm creating my own truth consciously or inadvertently serving someone else's agenda. The auto-filing system keeps these facts and suspicions neatly ordered. What mess I make of them emotionally is my own search for the truth. When I was finally ready to state my case at the end it was with the certainty of a killer and I ended with hesitation that I couldn't put back what I'd taken away. Even replaying sections, finding more information, and making my case one more time did not leave me with satisfaction. I had a truth, but the only constant was the nagging sensation I still missed more.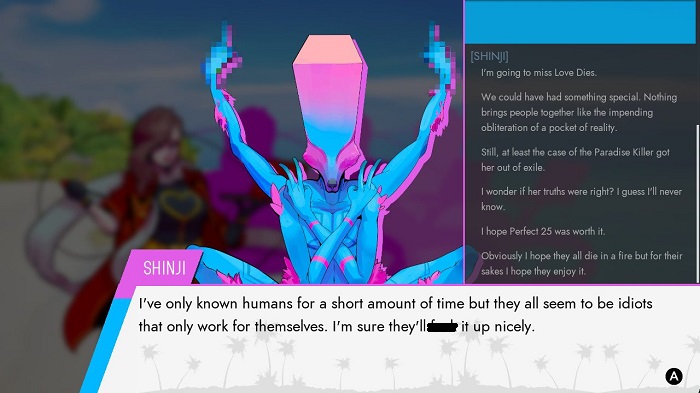 Paradise Killer was reviewed using a reviewer-purchased copy of the game through the Nintendo Switch Store.
The Review
Paradise Killer
That sensation of what I missed gave me more to gnaw on than other games that wrap up to their satisfaction. This wasn't a perfect game, especially when it came to the ways that the extra movement abilities and currency were haphazardly explained. But Kaizen Game Works got me invested in the cracks, wondering what truths the suspects convinced themselves of to do what they did - or at least what I think they did. This isn't a mystery that's solved with the truth. It's a mystery that only ends when you learn to make peace with the chaos and arrive at your own end.
PROS
Every bit of environmental navigation and design, character art, layered webs of surveilance and lies, half-realized truths, and acid-washed nightmares crafts an experience so compelling it goes beyond the screen to question how we can ever make peace with the truth.
CONS
Mildly obtuse upgrade and travel mechanics could stand to be a bit better explained.