Are you one of the people that's eagerly chomping at the bit for the release of Mario Maker 2 (which ironically releases the day of my board exams, yikes) but needs something to hold you over? Enter Badwrong Games, an Indie developer with a witty title to satisfy your craving for the time being, as it releases June 11th, long before MM2.
The basics of Run Jump Rabbit Turtle are simple. It's a platformer with snarky, sarcastic dialogue from the get go, asserting that you have to earn progress in the game through superior gameplay, not microtransactions, while still in the title sequence. Nice touch. There are some solid jokes poking fun at larger game developers sprinkled throughout that are good for a chuckle every time you encounter them. This developer clearly embraces his position in the gaming ecosystem and I for one appreciated it a great deal.
As for the plot, you're a mutant rabbit-frog hybrid that needs to navigate your way through levels. Basically the title of the game gives you everything you need to know. You're trapped underground by an oppressive monkey wizard that created you and who believes that your sole purpose in life is to collect kiwis on his behalf. There are three kiwis per level, along with 99 black beans. Every time you die, you lose a bean. So there's two metrics by which your level performance is assessed on. The number of beans that you can collect and make it to the end with, as well as how long you take to complete the level.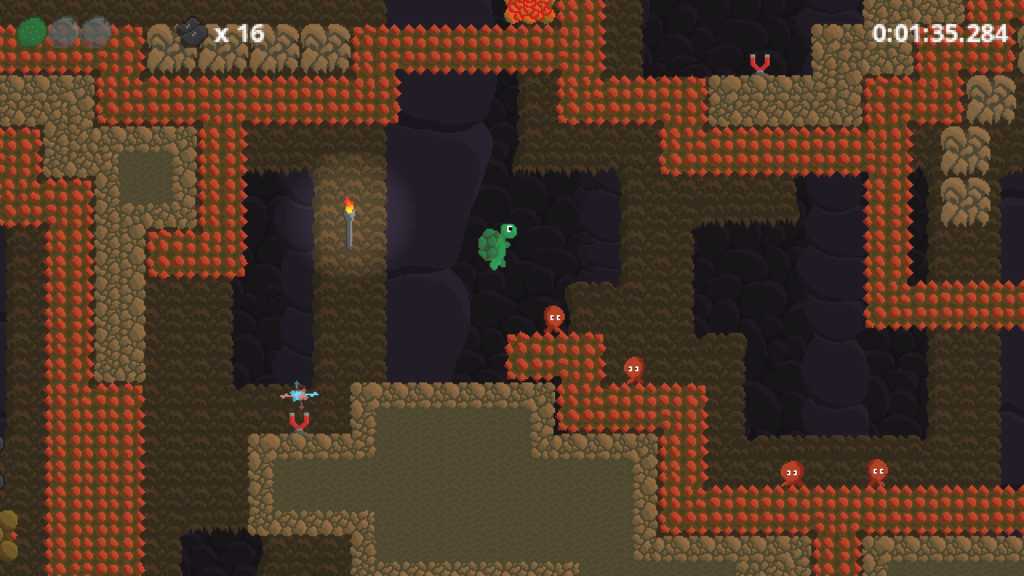 The game's simple bean and kiwi system make each level playable in different ways for different objectives, thus giving the gamer more content to play though and objectives to complete. But most importantly, as a platformer I know it's well designed because it pissed me off. The little laugh from the game every time you die, the learning curve that came with each new level – it's all phenomenally well done for the genre. Allegedly, there are three different endings, but I wouldn't know because I'm still puzzling my way through the first one. It's not a cake walk for someone used to playing platformers on a GameBoy, but the controls are simple enough to make this a fair test of skill more than anything else!
This game lends itself well to having speedrunning potential, so if that's something you're into I would recommend it as well. It wouldn't surprise me to see it do well in that realm in the near future!
If the developer by chance happens to read this, one thing that drives me nuts as a gamer is when the listed achievements give away spoilers about the plotline. If you could make some of those achievements that act as spoilers hidden achievements it would work towards perfection in an already great game.
The Review
Run Jump Rabbit Turtle
Run Jump Rabbit Turtle is an easy 9/10 for me. There is beauty in simplicity, and this is a great find for a new game. The potential for growth makes it even more worthwhile.