Super Blood Hockey, created by indie developer Loren Lemcke, recently created some buzz when it was released on the Nintendo Switch. The game had great success on Steam, and it may have found an even better match with the Nintendo handheld/console hybrid. An homage to 8 and 16-bit hockey games with added an flare of gore, over-the-top injuries (including death), and a unique backstory in its franchise mode, Super Blood Hockey is a must-play for gaming enthusiasts who love arcade-style sports games. Playing the game handheld made for an even better experience than what I found on Steam. Our official Super Blood Hockey review will do its best at capturing the magic that the game offers.
The first thing I'll say about this game is that it is not for children. No, it isn't the blood and guts like how Mortal Kombat used to be questionable for kids. Rather, it is the franchise mode that raised my eyelids and made this soon-to-be-father realize that this is an adult-only game. On a positive note, though, this very mode is what sold me on the game.
Franchise mode sees you as a coach entering a seedy international hockey league. You gain a facility and pay your entry fees by paying an "iron price"of which details will be left for the gamer to experience. You're then instructed to select your team among the 99 players available, all of whom have a price tag on them, making budgetary concerns a feature to consider. This sounds reasonable until you add the details that your players are prisoners, can die on the ice or due to starvation, and deceased team members must be… disposed in a dumpster in the back. Certainly this twist is tongue-in-cheek humor, but it is a theme that you may want to consider keeping away from your kids.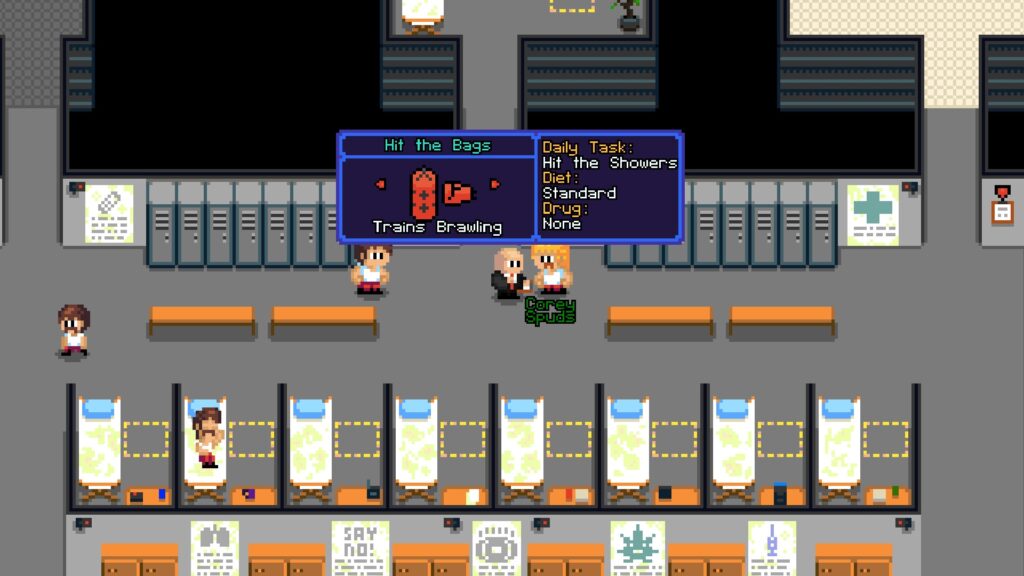 The teeny sprites and layout of your facility almost has a Pokemon feel, but instead of Pokemon you have gritty hockey playing criminals who you can train for certain statistics or even "juice up" with performance-enhancing drugs. There's a weight room, a punching bag, a shower, a medical unit and more. One of the best aspects of the mode is that you earn money through wins, placing emphasis on each and every game. The level of customization, control over your team's development, and competition (you can find the standings in your facility) are a unique experience that has a large hand in me declaring this one as "Doctor Approved."
Other modes include exhibition mode, a tutorial, tournament mode, and challenge mode. Most of these are self-explanatory except maybe challenge mode, which features hard-to-reach achievements such as winning a match when outnumbered four to eight. Completing challenges offers unlockable content. I found the mode to be a nice change of pace from the grind of Franchise mode, especially since the difficulty level of typical play feels a bit too easy at times.
Moving on to gameplay – the controls are so smooth and intuitive that almost anyone can pick it up and play. Shots on goal can be aimed with a reasonable degree of accuracy and one-timers can make a big difference in your score tally. There are noticeable differences in play types (i.e. sniper, enforcer, playmaker), all of which have strengths and weaknesses as it relates to speed, power, fighting, skating and other attributes.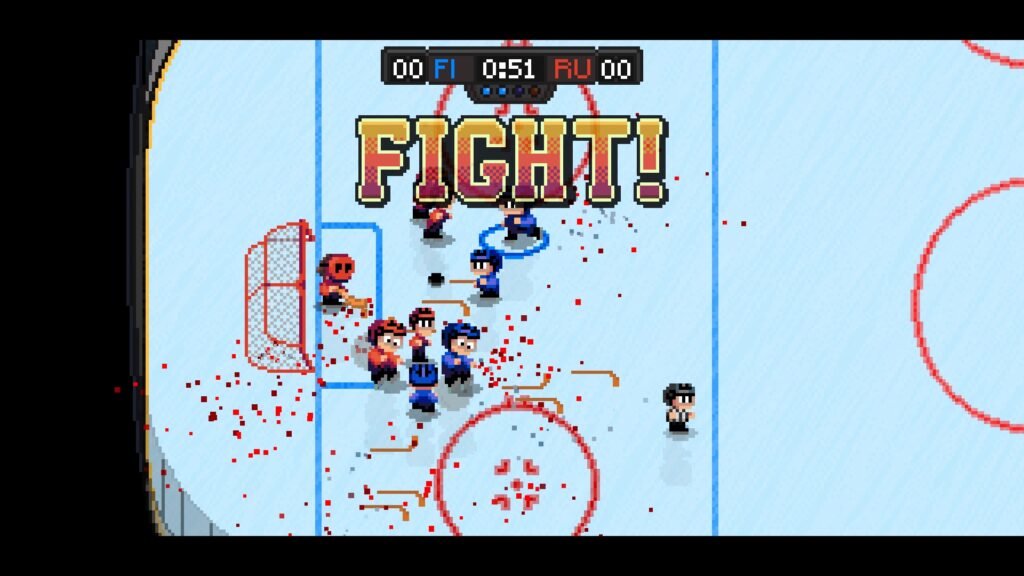 The fight system in a game called "Super Blood Hockey" delivers what is expected. Players will frequently check their opponents which will sometimes initiate a brawl. The team left standing gets a boost and the losing team may undergo injuries to their squad members, making the incentive to win the fight all the more enticing. Injuries are comical with descriptions such as "noticeably warped ribs" to lethal ones such as a ruptured spleen.
Teamed with the smooth gameplay is a memorable soundtrack. It isn't a retro-influenced classic if it is missing upbeat and goofy 8-bit music. Super Blood Hockey delivers on this requirement, offering an original soundtrack by chiptunist Shawn Daley. The synthesized electronic music stirs up feelings of nostalgia and encourages you to get rough out there on the ice.
When it comes to the overall feel of the game, Super Blood Hockey succeeds in its mission to honor the 8 and 16-bit hockey games of yore. It is certainly reminiscent of some of the great hockey games of that era, most notably NHLPA Hockey '93 which is perhaps the most highly acclaimed hockey game to date. The simplicity of its controls juxtaposed with the complexity of what it takes to win a match will scratch that retro itch you've been looking for.
All of these aforementioned positive aspects make for an incredible 4-player multiplayer experience. The nail-biting back and forth nature of the game shines when playing with friends. Upset that your buddy just pulled ahead with a lucky slapshot? Punish him the next time a brawl occurs and get a good laugh at whatever injury befalls one of his players.
The Review
Super Blood Hockey
Aside from minor things such as difficulty level (seemingly too easy), Super Blood Hockey is a perfect arcade-style sports game. It is a true homage to the 8 and 16-bit era of hockey games and its gameplay is intuitive and fun. Franchise mode is what sells the title, and the original soundtrack is a great cherry on top.
Super Blood Hockey DEALS
We collect information from many stores for best price available
Best Price
$15