The Last Hex is a deckbuilding game that combines modern roguelike and old-school RPG elements.
Card games (with the exception of Artifact) have taken the industry by storm as of late. Hearthstone has been one of the most-watched games on Twitch, even when the player base was more unhappy than usual. Magic: The Gathering Arena has introduced the original deck-building game to a wider audience. Players have enjoyed The Witcher franchise game Gwent, and even a non-competitive game Slay the Spire has been making some waves.
In addition, variations of the deckbuilding theme have been numerous. For example, Signs of the Soujourner combines dialogue with card mechanics. In our review of The Last Hex, we explore another card game that crosses over with a different genre (in this case RPGs).
With all of that said, it is no surprise some of the smaller studios are taking a crack at the deckbuilding genre. One indie game developer, aptly named That Indie Studio, has a truly interesting combination of genres brewing in their early-access title The Last Hex.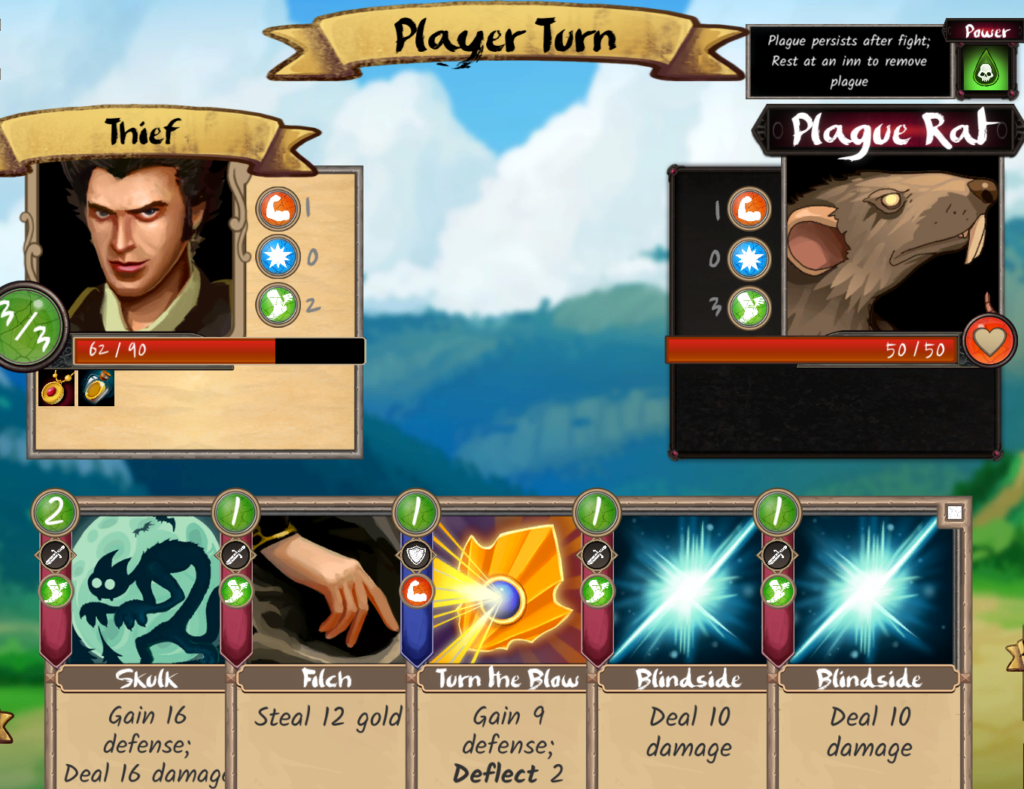 You play a hero whose goal it is to make it across the land to fight something called The Lost. If you're a fan of Kingsway or more old-school RPGs you'll already be familiar with the overworld setup. A Civilization-style hex map is procedurally generated, giving you random towns to visit, events to participate in, and enemies to fight.
The difference, however, is that the entire game revolves around your deck of cards. The player uses the cards to fight the monsters, increase your defenses, or even steal gold from your enemies! Shops you visit in towns give the ability to purchase better cards for your deck. Equipment you use and the class you choose increase the effectiveness of the cards.
The card playing system is similar to what you've probably seen before: a resource (in this game it's designated as "Expertise") is exhausted to play cards. These cards deal damage to the enemy, manipulate your player stats, or bolster your armor – protecting you from future attacks.
While I haven't been able to make it to the last hex yet, I've enjoyed the time I've spent with this game so far. There is a good variety of cards and the gameplay kept me engaged. Its visuals are sharp, and the soundtrack is decent. If you want to see the game in action, take a look at the trailer below.
Please note that as of the writing of this article, The Last Hex is in early access and therefore the final score is subject to change.
The Review
The Last Hex
The Last Hex is one of many deckbuilding games that has come to the market during the rise of the genre. What makes it stand out, however, is its RPG elements, and that alone makes the game worth a look.
The Last Hex DEALS
We collect information from many stores for best price available
Best Price
$15