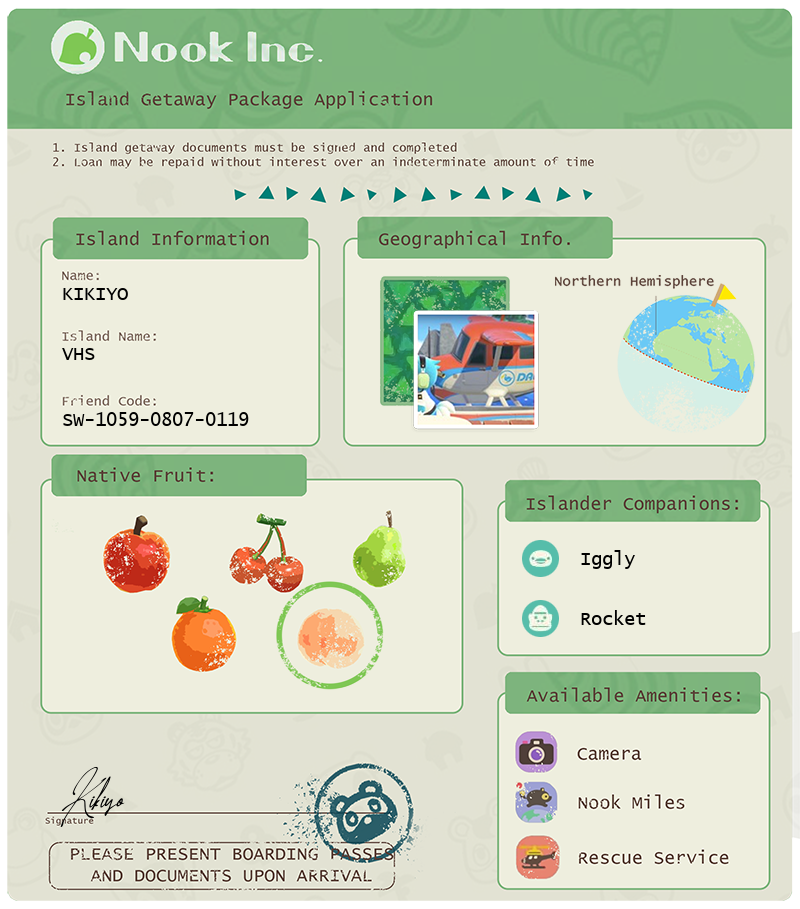 On day five of our quarantine we all still took our second reproductive health exam as scheduled. As a second year medical student amid the chaos and uncertainty of COVID-19 the work hasn't slowed down, and the necessity of spending hours and days studying constantly for class exams and our step 1 boards is still very much in effect. Yet there was a glimmer of hope shining at the end of last week, and it came as a text notification from our package delivery hub that my package had been delivered.
Finally, a short reprieve. Finally, some comfort and carefree bliss had arrived after months of waiting.
It was here. Animal Crossing: New Horizons was here.
For those of you who are unfamiliar with the franchise, Animal Crossing is a life simulator/casual RPG that first arrived on the scene in 2001 on the GameCube. Simply titled Animal Crossing, it was revolutionary in that game mechanics and progression revolved around the system's internal clock and played out in real-time. This means that even when the game isn't on and actively being played, real-time changes occur.
As Crackerjack Sugarman says in the Netflix original Bojack Horseman, "Time's arrow neither stands still nor reverses. It merely marches forward." Of course you are the archer in this metaphor as time travel is very highly taken advantage of to the player's benefit, but we'll get to that.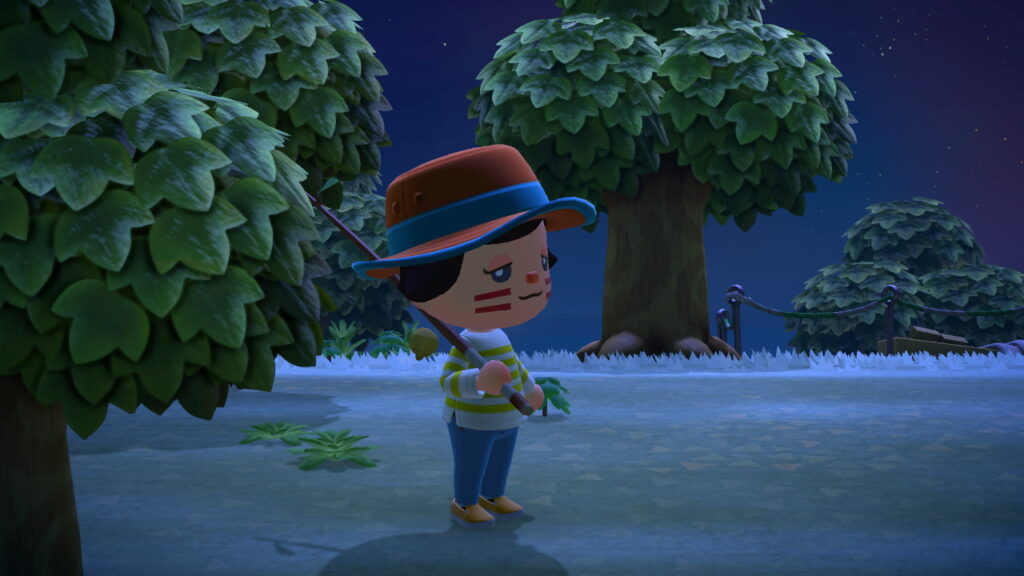 Animal Crossing: New Horizons is the fifth main series title in the series following Animal Crossing: New Leaf, which came out an astonishing seven-ish years ago on November 8, 2012 for the Nintendo 3DS. This is following a number of main game entries with much less time between installments: Wild World debuted on the Nintendo DS in 2005, followed by City Folk on the Wii in 2008.
In those 7-plus odd years the series has also seen a number of side games and spinoffs, most notably Animal Crossing: Happy Home Designer. In that title players build and design homes for the villagers who can pop up in your town. In addition to Happy Home Designer, there was the microtransaction-ridden time waster Animal Crossing: Pocket Camp. In that title players had to actually pay real money to open fortune cookies for furniture. No, this is not an exaggeration.
Yet the series has seen huge success and popularity among the gaming world, selling millions of copies worldwide and consistently earning a place among best-selling titles of the matching console. With a fiercely active and loyal fanbase, along with such a large gap of time separating main series titles, it goes without saying the hype and anticipation for New Horizons was electric.
Any news about New Horizons sparked countless videos and blog posts dissecting even the smallest scraps of new content. So what is it about Animal Crossing that makes it so worthwhile? What are its pitfalls? And how does New Horizons compare? As someone who's played most of the main franchise in childhood, adolescence, and adulthood, I was eager to find out.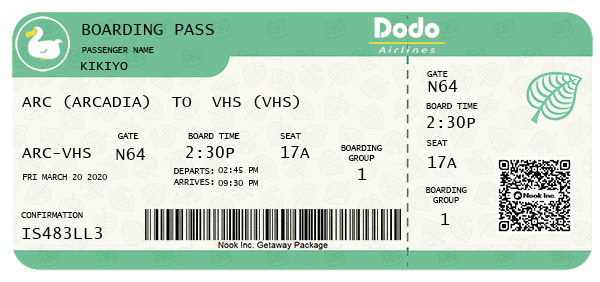 With the world in general outbreak mayhem and disarray, New Horizons serves as the perfect escape. I did have to make some slight adjustments to my plans for a villager, as apparently the name 'Kiki' is derogatory in some country somewhere out there. But, otherwise the customization of your player and island is fun and easy.
One notable change comes with choosing if your character presents as male or female. Foregoing the classic standby of "Are you a boy, or a girl?" New Horizons asks you to "Please choose your style," in which you can choose from a face with a buzzcut or a face with bangs and a ponytail. This is a huge change and a clear nod to transgender and nonbinary people, and I love that this is the direction gaming is going towards. The game also maintains that you can change this later, further adding to the customization of your villager and marking a broader exploration of character expression.
I, of course, agonized over whether I should have the cute sleepy-looking eyes or the eyes with the eyelashes sticking out of the bottom. These are critical choices, people.
You also get to choose between four randomly generated islands to embark off to, which will generate with 1 of 5 native fruits and 1 of 3 grass textures on your island, as well as two random villagers (one "Sporty" and one "Uchi" personality). Those who are so inclined can reset their game and tread through character creation to get their desired fruit and island layout, but given the fact that I've mellowed out considerably since my teenage years I went with what I was given. I lucked out with peaches.
Once you're on the island the differences start to become more clear. World customization has becoming more and more user-controlled with each passing title. In the original game you moved into one of four houses placed specifically in the villager housing area. In New Horizons you get to pick where your house is built.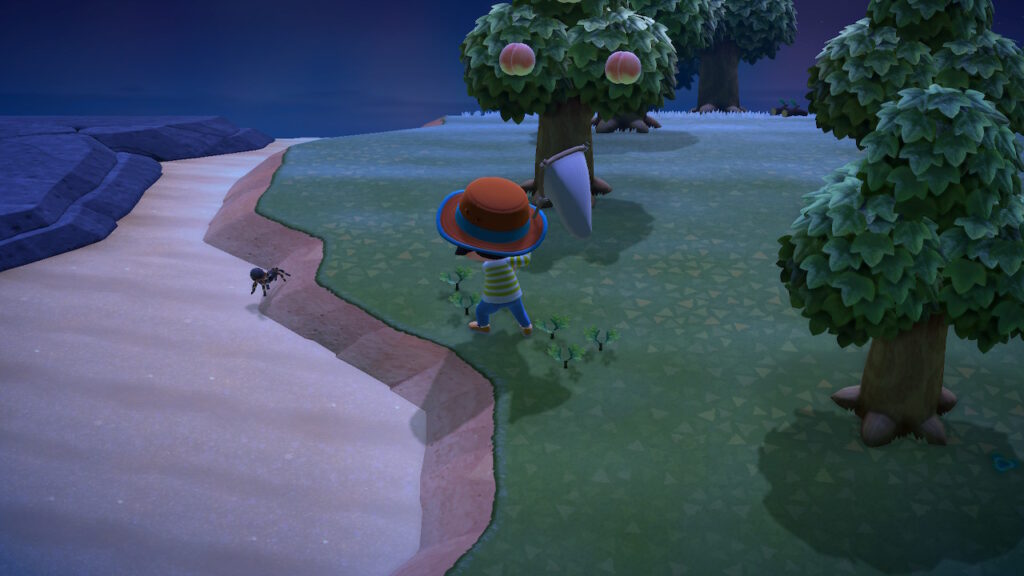 Villagers in previous games would already be inhabiting your town in various locations on the map, and new villagers would place their houses down randomly on any free spaces available. New Horizons not only allows you to pick where your character is putting down roots, but where other villagers place their new homestead as well. This is a welcome change for many players, as maintaining the aesthetic of their ideal town was extremely difficult when a new neighbor would come in and put their house directly in the middle of their perfect chevron rows of golden roses and fruit trees. Once you've placed down your tent and gone through the island naming ceremony, the real game beings.
In essence what makes Animal Crossing such a beautiful and relaxing experience is the sense of carefree independence, peaceful community bonds, tranquil tone, and ease of expression and creation that captures our hearts and minds. After gaining access to the crafting option in the game, I was right back into the swing of past Animal Crossing titles and fully immersed in my do-it-yourself island life.
With the new option to place furniture just about anywhere on the map I was quickly setting up my beachside home, and with materials easily accessible and new items appearing in just seconds, players will feel a strong sense of ownership and pride with what they make. This gratification is particularly cathartic to me as a medical student. After weeks that feel like a never-ending eternity of getting up, studying for hours, going to bed and possibly repeating it all in fear of painful, agonizing failure, New Horizons is a welcome respite.
Getting to fish and receiving an outdoor hat from my new penguin neighbor was so good and wholesome it almost made me cry. Character dialogue is full of personality, and the games are full of sometimes wistful but always hopeful and uplifting quotes.
My favorite is from the fortune teller Katrina: "The bad times are just times that are bad." That's resonated with me quite strongly in these past few weeks.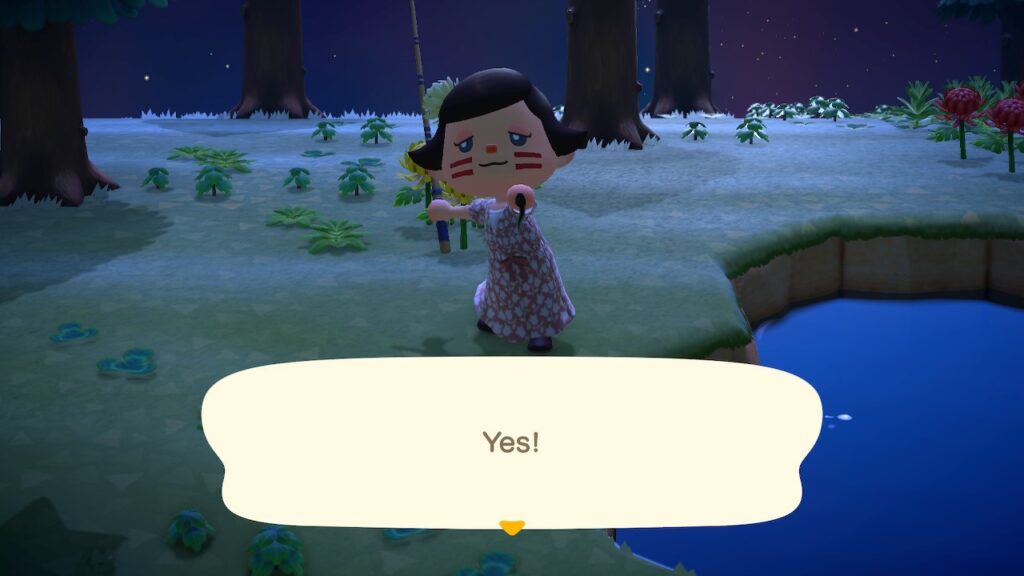 I truly believe people are naturally inclined to create. New Horizons allows for that more than any previous AC game, and you are fully in control of that part of the gaming experience.
There are no deadlines in Animal Crossing. No rush. Nothing that needs to be done, just the absolute leisure of finding joy and serenity in the small moments of life. On your first day you can craft an ocarina solely for playing music. Or you can greet villagers, explore your island, and call it a day.
The game is fully of little surprises. My favorite example from this initial playthrough was knocking a floating present out of the sky with my slingshot and finding a cute little dress inside. I can confidently describe my first few hours as delightful.
However, after about four hours of gameplay my options did begin to dwindle. Early off you're able to begin exploring and collecting, but after a few hours you'll realize the game is still keeping progression locked behind a real-time waiting period.
For example, in every installment of Animal Crossing you can donate your fish and bugs to the local museum. This gives some players concrete goals to aspire to, specifically the "gotta catch 'em all" mentality of achievements. In New Horizons, the museum curator doesn't start on the island with you. You're able to set up where he'll set up shop, but he doesn't appear until the next real-time day. So for people like me who want their first catch of anything to be donated to the museum they end up in the situation below: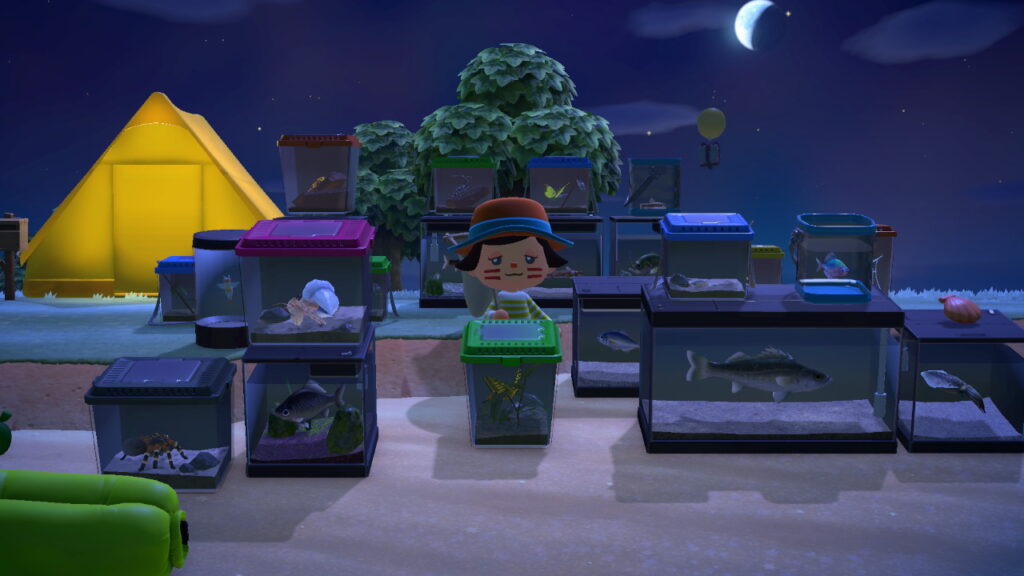 The majority of the island is also inaccessible on your first day of the game, limited by rivers blocking your path and plateaus out of the player's reach. Game trailers have alluded to this being circumvented by vaulting poles and ladders, however these items are not available either from the game's buying options or island inhabitants. The crafting recipes didn't seem like they would be available that day either.
Even one of your most necessary tools in the game, the shovel, doesn't become available until the next real-time day. This is where the "time travel" mechanic comes in, as many players become frustrated with the stalled progress the game embraces. Changing the in-game clock has been an option that can be reached from the starting menu of the game after going through multiple menu branches like you're on the phone with the cable company. I'm not sure if New Horizons maintains this in-game option or if it syncs with the Switch's date and time, however if it is the latter this would mean to maintain progress your Switch will constantly be forward in time.
It is also very much worth pointing out there is one musical theme on your island that plays continuously, on loop, day or night. In previous titles every hour had its own sweet little tune, and if the only music that'll play on this island is the same fire-side guitar riff I'll be thoroughly disappointed.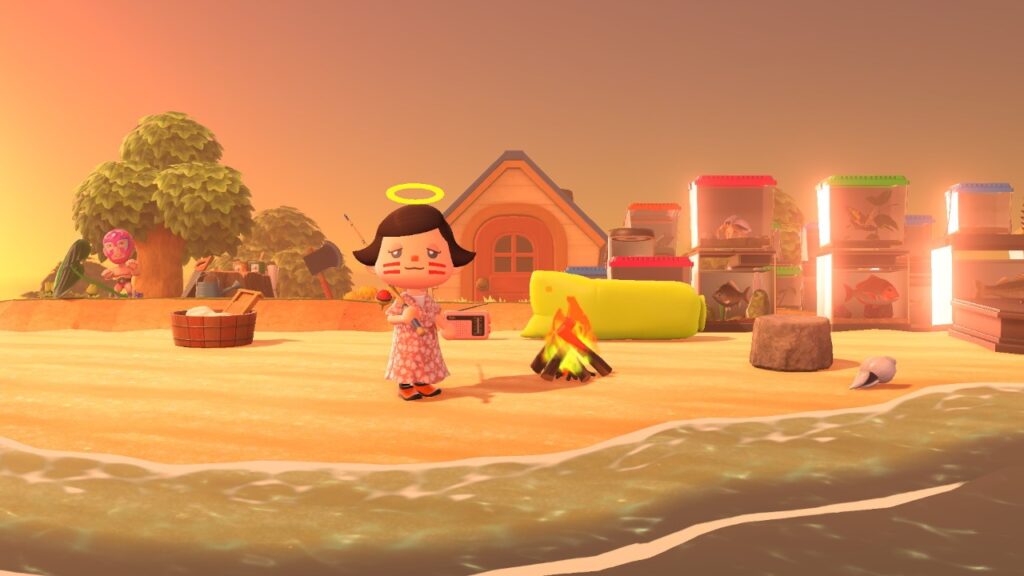 Overall New Horizons brings some fun new mechanics to the series and somehow jam-packs even more charm and touching life philosophy that veteran players will rejoice in while giving new players safety and comfort, especially in these trying times. It is, however, still a slave to the in-game clock, a strict mother telling you you've had enough video games for one day. Even with these faults I cannot wait to see what more new and exciting features lie just beyond the horizon.